Being a native of the historic market town of Newark-on-Trent and with the rock hub of Nottingham being a mere 30 minutes away, not much happens in the Newark music "scene". So for that reason alone I was curious to see what would happen when the UK Tech Fest came to the town's Showground. The other reason being that when some of the biggest and most impressive names from the underground tech metal scene does come to town, you just have to go.
Having missed the first 2 days of the 4 day festival, we jumped in at the halfway point. And even though we missed the likes of Vildhjarta, Devil Sold His Soul, Chimp Spanner, Martyr Defiled and Carcer City, UK Tech Fest still had a lot to offer.
The layout to the festival is close knit; the campsite is a stonethrows away, the 2 stages are separated by a bar/merch area and all of it is spread along 4 airplane hangers. The downside to this is the soaring heat makes it somewhat unbearable to watch some of the earlier bands.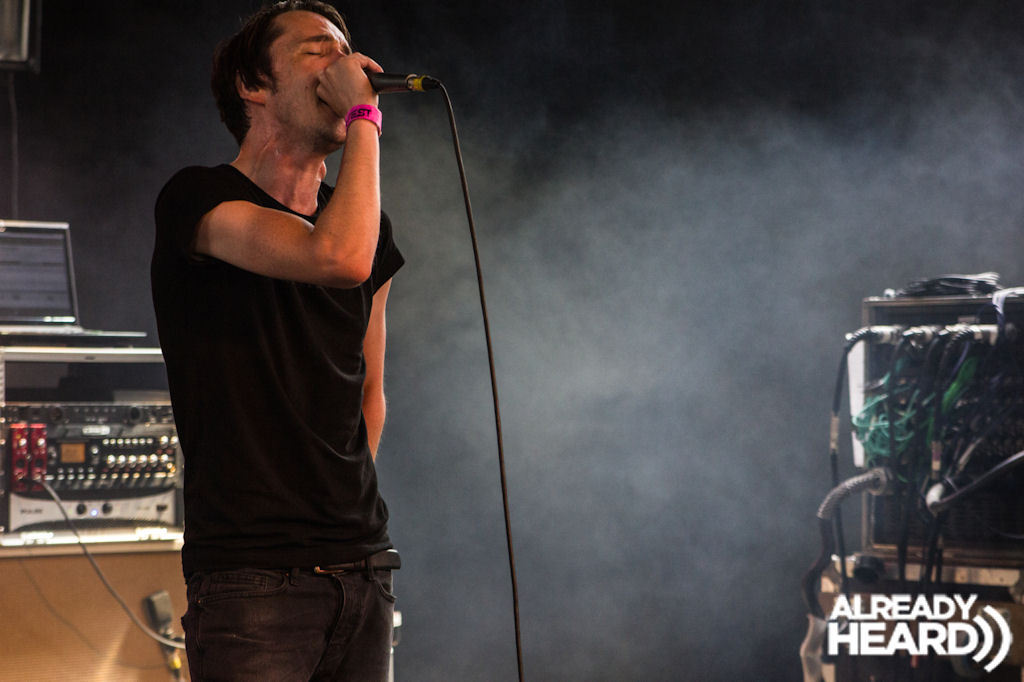 Nevertheless, Orion provide a strong start to the day with their brand of melodic ambient metal. Sure they sound like dozens of other intimaters, yet today they sound crisp and tight to the point that I had to make sure they weren't literally phoning it in. Thankfully with superb vocalist Phil Owen at the helm, and guitarists Ryan Robb and Alex Huzar providing a stellar backup, Orion are a early highlight that got pulled in a small yet appreciative crowd. (4/5)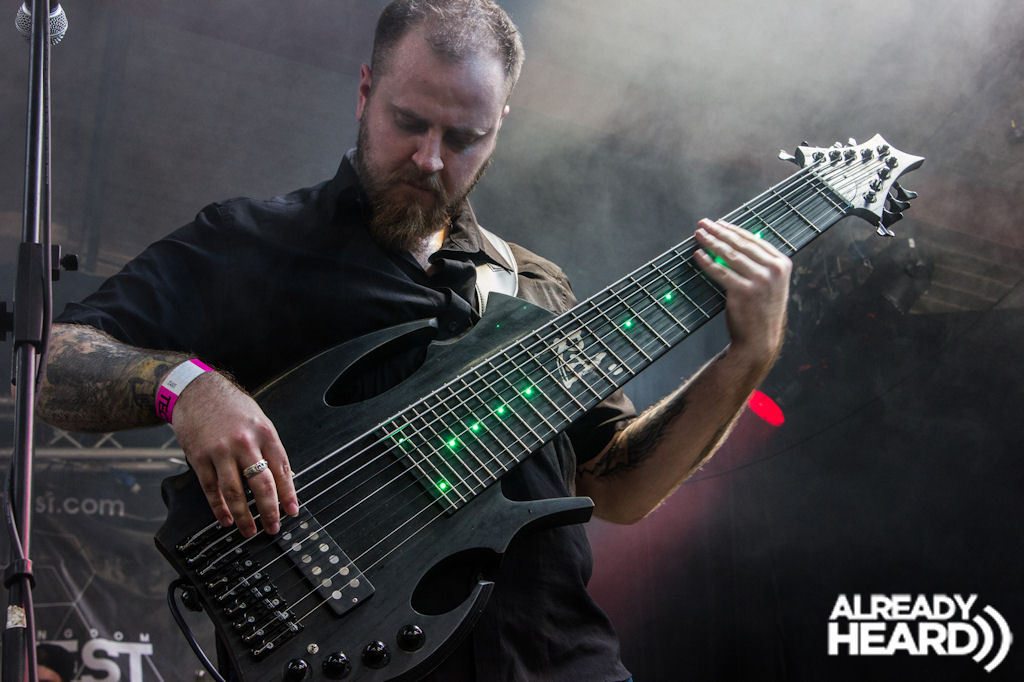 Over on the main stage, German metal instrumentalists The Bellerophon Project dazzled us as guitarist Andreas Schaberer led the way with his precise finger tapping, whilst Manuel Lotter compliments Schaberer with dynamic tempo changes that keep viewers guessing and interested. Whilst the duo, along with touring members bassist Uz and guitarist Ben Reichert, are very talented, the lack of vocals leave me uninterested. Technically there's too much to take in and to process to make it thoroughly effective. (2.5/5)
Although Italians prog metallers Lies of Nazca may struggle with the English language, in the world of tech metal the almighty riff is universal, and add deep, aggressive vocals from Matteo Boscolo and you're left with an impressionable set from the five-piece. However, besides from being Italian, there's not much difference from endless of other atmospheric melodic metal bands on show this weekend. Nevertheless its still early days Lies of Nazca, and it's clear they're working towards bigger things. (3/5)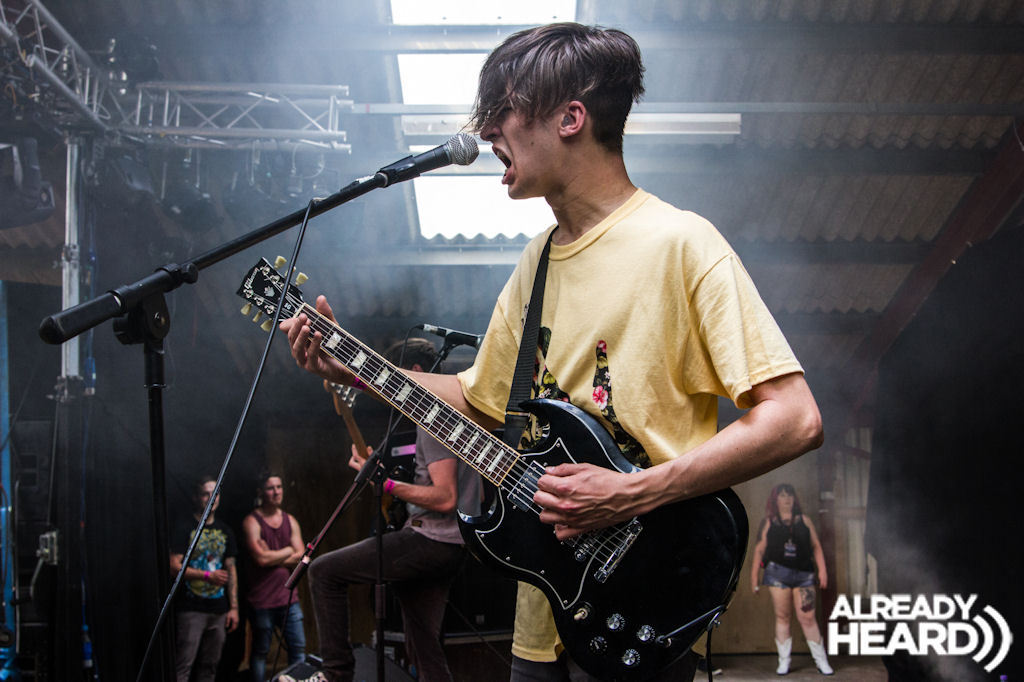 Back at the main stage and stopping off in Newark before finishing off their headline tour in their hometown later in the day, Acoda make their presence known with a mix of old and new songs. Having gone through a recent line-up change, the Northamptonshire four-piece gradually pull in an impressed crowd as the bands use of three-part vocals and the to and fro-ing of heavy and soft parts provided one of the days best sets. With Thrice-esque melodies, and thriving choruses, Acoda are perhaps one of the most "accessible" bands on todays bill but also one of the most impressive. (4.5/5)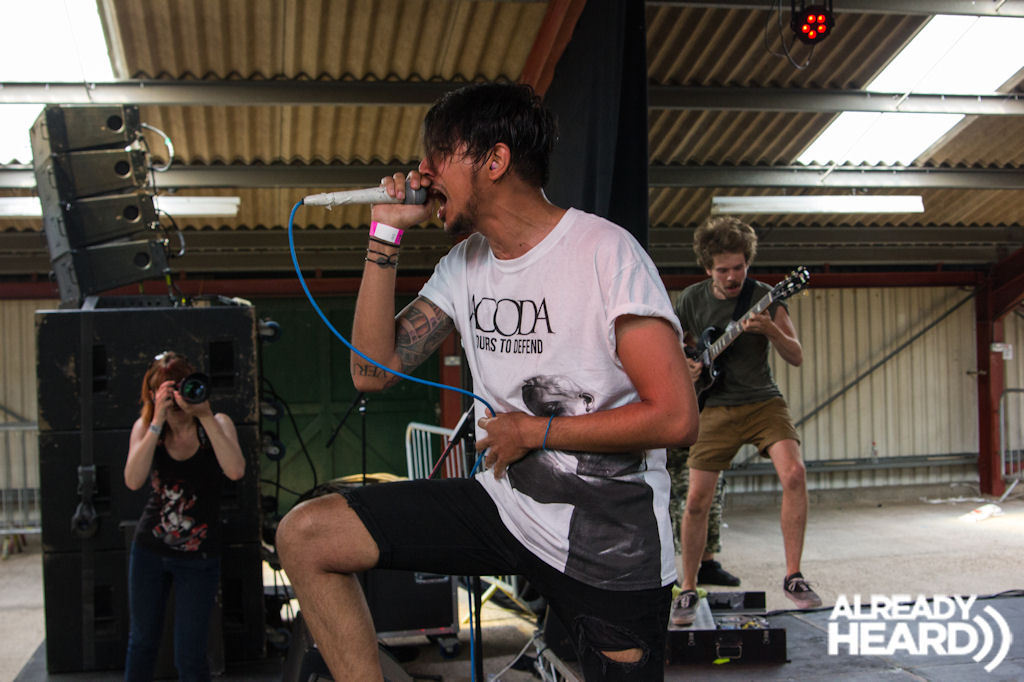 Acoda's recent touring buddies Now, Voyager are no strangers to us here at Already Heard (they've been featured in our "Recommends" as well as appeared on last years 'Recommends Vol.1 Compilation'.) Today the Belgians atmospheric metalcore isn't as effective as we had hoped for yet frontman Nabil Sanaullah fantastically shows off his soaring vocals throughout, and with final track, 'Tabula Rasa', the band as a whole give us a compelling, powerful moment that leaves us excited for their debut album. (3.5/5)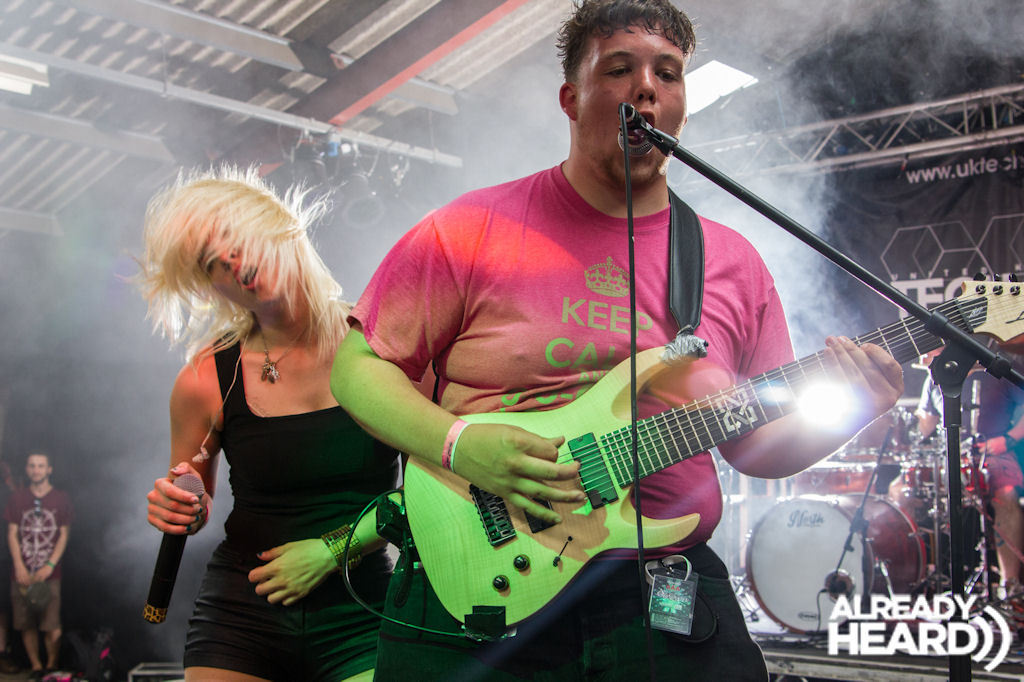 Baltimore's Drewsif Stalin pull in one of the biggest crowds of the day as Drewsif and his band along with vocalist Nikki Simmons blast their way through a mix of progressive metal and Djent. Throughout Stalin would burst through the barrier to run into the crowd for a brief moment before suddenly appearing back on stage. A fun and entertaining set that even included a notable Miley Cyrus cover. (3.5/5)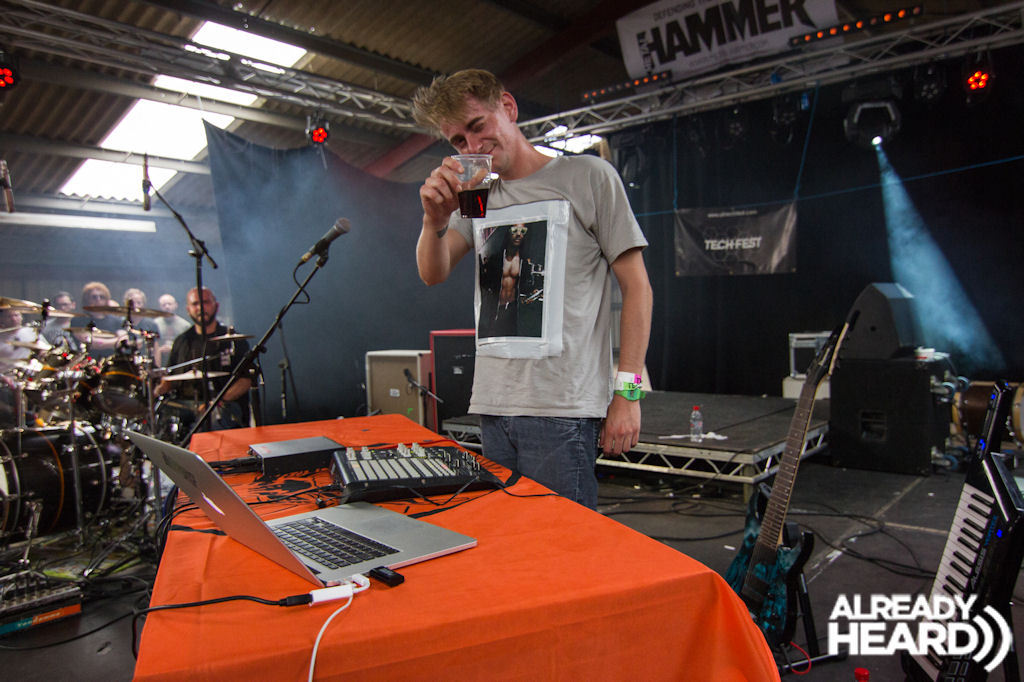 Later on, the day took a twist as French EDM/metal crossover act The Algorithm drew in an energetic crowd as Rémi Gallego and live drummer Jean Ferry combine to produce an interesting and intriguing set. Although tracks like 'ピタゴラスPYTHAGORAS' are pulled off well, the electronic elements are too dominating for my liking. Gallego's fusion of electronic and prog metal is admirable and daring yet quickly becomes ineffective. (2.5/5)
Although there is a preconception that UK Tech Fest is dominated by bands with scaling guitar riffs and pummelling drum work, the likes of The Algorithm, and especially Jon Gomm, gives the festival some form of variety. The Blackpool singer-songwriter provides us with a delicate break from insane riffs and abrasive vocals to give a delicate yet compelling performance. Tracks like 'Gloria' has the mass crowd captivated with all eyes on Gomm and his plucky guitar and soothing vocals. In between songs Gomm is charismatic, humorous and gracious. For the most part, Jon lets his virtuoso guitar playing prowess take centre stage. Overall, a refreshing sub-headliner that nicely sets up for tonight's headliner. (4/5)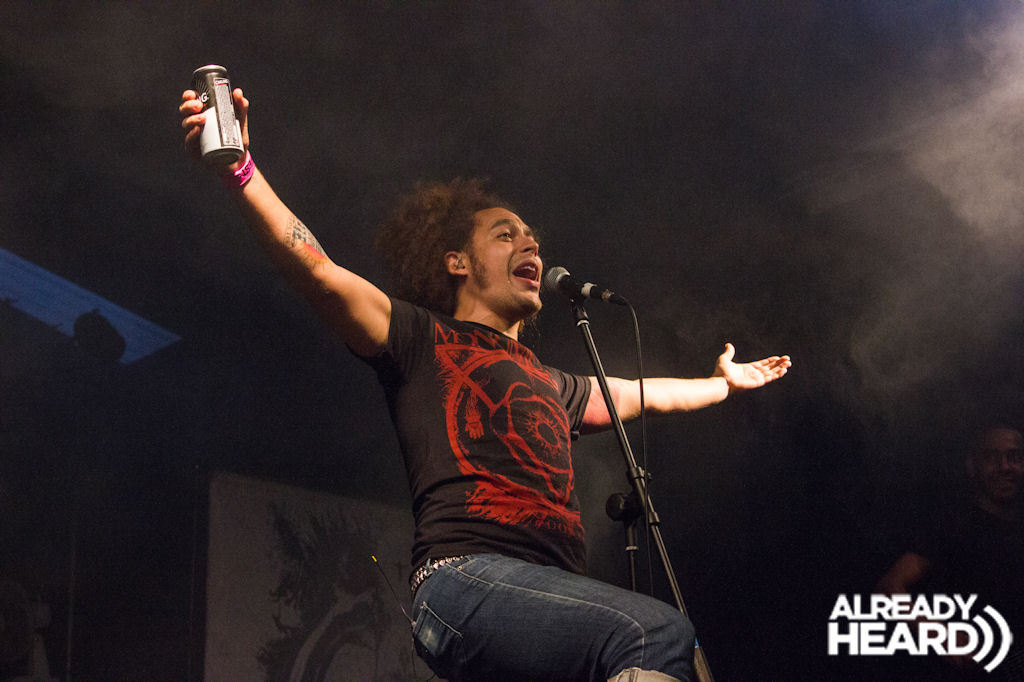 Back on UK soil after a rough European tour and with the freshly released 'The Amanunensis' in their arsenal, Monuments have the honour of closing Saturday, and they show just why they have such a billing. With the extraordinary vocal talents of the afro-haired Chris Barretto taking centre stage from the start, he's joined by twisting guitar lines and drum patterns courtesy of John Browne, Olly Steele and Mike Malyan respectively.
From the start, the London-based quintet have a frenzied energy that reverberates throughout the crowd. As they play through a variety of old and new material, their sound has a swaying, underlying groove that is vibrant and well received.
After a slight technical fault (well it is Tech Fest after all right?), Mike Malyan kick drum needed fixing a couple of times, Barretto led the crowd into an improvised cover of 'Another Bites the Dust' before resuming proceedings.
Ending with the lead track from 'The Amanunensis', 'I, The Creator', Barretto leads the crowd into a soaring chorus that is sung in unison and is the icing on the cake tonight. Minus a couple of technical hiccups, Monuments are faultless tonight with technical prowess, and in Chris Barretto they have a commanding frontman who compliments the band's powerful and absorbing brand of progressive metal. I guess you could call it a monumental climax. (5/5)
View more of Already Heard's UK Tech Fest 2014 coverage here.
UK Tech Fest links: Website|Facebook|Twitter
Words by Sean Reid (@SeanReid86.) Photos by Carrie-Anne Pollard.