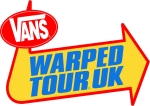 It is a long time in the making but finally the iconic Warped Tour has come back to the United Kingdom. It's a far cry from the annual summer trek around America; firstly the weather forces the event to be inside and London hosts the only date of this "tour." Nevertheless, it is a stellar bill and the event has been sold out for months, leading to high anticipation of Warped Tour UK today.
The first band that Already Heard catch today at Warped are A Loss For Words. Unfortunately we arrive slightly after The Story So Far have come offstage but judging by the amount of people walking around later with newly purchased 'Under Soil And Dirt' vinyl, it was a good set. A Loss For Words put on a professional if slightly uninspiring set. Sound hampers any enjoyment of the start of their set, but the band hit their stride by the time they launch into a cover of Jackson Five's 'I Want You Back.' The set is littered with tracks from most recent album 'Sanctuary' but the songs that get the best response still are from 'The Kids Can't Lose,' including closing track 'Stamp of Approval.' They are a band that are very much suited to the Warped atmosphere and go down well with the already large crowds in the venue. (2.5/5)
Up next are Blood On The Dancefloor. There's not much to say about these godawful Cyber Dog abortions. They arrive to an ear-piercing shriek from the assembled female masses, a terrible omen of what is to come. I have never seen or heard of these monsters before today but from the moment they appear on stage, I can't quite believe what I am watching. Horrible synth noises blare forth and they commence a set of squelchy noises. I'm not sure how anyone could stomach this but the crowd goes wild for this, apparently. I must be out of touch with modern culture because I see absolutely nothing redeemable in this set. (0/5)
Pop-punk defenders Man Overboard are next up and deliver a solid and reliable set. They are less sloppy live than usual and seem to be really revelling in the occasion of playing next to a giant half-pipe (set up for the skateboarding tournament to be held later.) Fan favourites like 'Montrose' and 'Fantasy Girl' sit well alongside new album tracks like 'Rare.' They close, as usual with 'Love Your Friends, Die Laughing.' (3/5)
Up next on the main stages are two bands I never thought I would see sharing a stage together: Architects and 3OH3!. Architects' set (3/5) of melodic hardcore draws a sizeable crowd and they have become a formidable live band however it is 3OH3!'s dire set (1/5) of electro-pop which really drives the crowd wild, especially massive single 'Don't Trust Me.' I'd much rather see the power and intensity of Architects than 3OH3!'s sugary-sweet pop turds performed live, but the crowd today obviously aren't in the same mood as me. 3OH3! somehow garner the better reaction of the two bands, depressingly.
If there is a band to cheer me up after seeing 3OH3!, then it's New Found Glory. They are the epitome of the Warped Tour and today they demonstrate that ably. They have the crowd eating out of the palm of their hands from the opening strains of 'All Downhill From Here.' The band have been playing shows commemorating the tenth anniversary of their 'Sticks And Stones' album for the past week over the UK and they continue these celebrations tonight at Warped, playing the first half of the album. This includes the absolutely massive hit 'My Friends Over You' and fan favourite 'Sonny.' It's refreshing to hear New Found Glory play some of this lesser heard material but just when you think you've escaped it, they drop in that annoying 'Kiss Me' cover and tarnish an otherwise very enjoyable set. They are a band that sums up the community, the fun atmosphere of the Warped Tour and hopefully will still be around for years to come. (3.5/5)
Next up are The Used, who come and blow the roof off the building like its 2005. Opening with 'Take It Away' they prove they are still an incendiary live force. Bert McCracken is still a whirlwind presence on stage as they careen into 'The Bird & The Worm' having lost no passion or energy since last they graced a British stage. This is, however, a set very much mired in past material, and it says something that the two highlights of the set 'Taste Of Ink' and 'All That I've Got' were released in 2002 and 2004 respectively. This does not detract from this being one of the best and somehow most refreshing sets of the day, however new material is desperately needed if there's any future for The Used. (4/5)
Lostprophets are the main attraction tonight at Warped Tour UK and it is easy to forget how legitimately massive this band are now. They storm the stage and open with a trio of songs from 2006's 'Liberation Transmission,' tracks that haven't aged despite the six years that have passed since that album's release. The pace is intense and jaw-droppingly hit packed. Within the first fifteen minutes alone, 'Prophets have casually dropped 'Shinobi Vs Dragon Ninja,' 'A Town Called Hypocrisy' and 'Last Summer.' It is a testament to the strength of this band that just when you think the set is about to hit a lull, they manage not to disappoint by throwing in 'Where We Belong' and 'Rooftops' back to back. The set is basically a greatest hits album and then some, and front man Ian Watkins is loving every minute of it, relishing the crowd's fevered response.
Lostprophets prove tonight that they are on another level to the rest of the bands on the bill. It is a true moment in the history of the band here tonight and a fitting end to the inaugural Warped London. (5/5)
Whilst we may not be able to provide the sunshine, Warped Tour UK was still a great community led event. There are still teething problems that need to be ironed out if the event is to run again, but overall it was great to see the event come over and enamour another generation of youngsters with its punk rock heritage like it enamoured all of us all those years ago.
Words by Tom White (@whiteywitters)