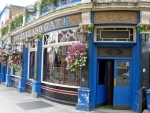 London venue Bull & Gate is set to close on May 4th.
Promoters Club Fandango took over the Bull & Gate in June 2010 and announced it's closure today.
The building has been sold to the Youngs chain and will be closed for refurbishment across the summer.
Club Fandango made the following statement:
"Since 1980 a small, slightly smelly, part of the Kentish Town Road has been a home-from-home for hundreds of young hopefuls seeking to make their way in the musical world. For the past 11,680-ish nights the Bull & Gate has put its balls on the line and the good, the bad and the most maddening of bands on its stage, aided by a perfectly aligned live room and a frankly excellent PA. It may not always have been pretty. But it was always pretty bloody interesting".
[When Club Fandango arrived] they brought with them the wholesome likes of mybandsbetterthanyourband, BBH, Steve Lamacq's Going Deaf For A Living, PRS, Amazing Radio, Killing Moon, Best Of Myspace, fierce panda's Bamboooozled and AIM-endorsed Labelled With Love shows with record companies such as Xtra Mile, Too Pure, Idle Fret and Alcopop! Records. They have, frankly, been having fun, and had every intention of having much more fun until the news broke".
The irony is that having weathered the storm of free gigs and hipster swinging out of East London, having battled through five years of recession and having fought against the tide of depression rolling over the guitar-gripping side of the music industry throughout this decade the venue is going to be taken down by a gastropub. In the true tradition of modern communications we have set up a Facebook of condolence: please wend your weary way to www.facebook.com/clubfandango to leave your memories of good nights before we say goodnight to the old dear."