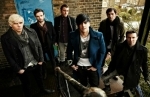 News has emerged that Lostprophets vocalist Ian Watkins has been placed on suicide watch ahead of his trial for 23 sexual offences this November.
According to the Independent, his barrister, Sally O'Neill, told a court yesterday morning (12th August) that a clinical psychologist had recommended that he be moved from Parc prison in Bridgend to a psychiatric hospital, and that should receive anti-psychotic medication. Watkins appeared a video link. O'Neill went on to say the singer is on suicide watch five times an hour.
Watkins has denied all 23 charges against him and is set to stand trial on 25th November.