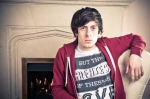 Luke Leighfield has launched a Kickstarter campaign to fund his new album.
Leighfield is aiming to travel to Cleveland, Ohio in March to record with producer Jim Wirt (Jack's Mannequin, The Rocket Summer and Something Corporate).
Full details on the campaign can be found here, and a video about Luke's plans can be viewed by clicking read more.