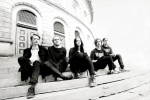 Southampton's Takedown Festival has added six new bands to this year's line-up including Marmozets, The Algorithm, The James Cleaver Quintet, and We Butter the Bread With Butter. With Subsource and We Are Fiction being the two other new bands.
Early bird tickets for Takedown 2013 have now sold out with more bands set to be announced on Monday (25th February).
Takedown Festival takes places on Saturday 11th May at Southampton University.
Visit takedownfestival.co.uk for more information.