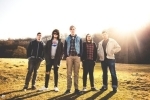 The new video from Martyr Defiled, 'Infidels' has been released and can be viewed after the jump below.
The clip was directed by Tom Cronin and the band made the following comment about the video and its month-long viral campaign leading up to its release:
"We directed all of our anger and hatred into this song, and created what is by far the heaviest and most angry Martyr Defiled song both lyrically and musically to date. We decided to reflect this in the subversive viral campaign that we used to promote the release of the song – through 090913.com. It started as a simple idea, a bit of shock tactic and dramatisation of current events, but became something much more relevant to what Martyr Defiled stands for – we're p**sed off, and everyone else who's p**sed off can identify with what we're trying to say. The video is symbolic of this also – we are all infidels in our own way, and by being forced to wear a balaclava we become the faceless majority that is tired of putting up with your sh*t, and we're not gonna stand for it any more.
"The balaclavas are representative of the idea that we are all faceless when it comes to how we are dealt with in society. No one believes in the idea that we are accountable for our actions, so we go about our daily business with no regard to who or what we effect by being the majority that we are."
Martyr Defiled will be supporting Capture The Crown on the following dates in November.
November
10 Cardiff Clwb Ifor Bach
11 Nottingham Rock City Basement
12 Glasgow Ivory Blacks
13 Leeds Cockpit 2
14 Manchester Satans Hollow
15 Birmingham Asylum
16 London Warped Tour UK