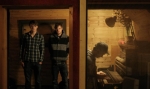 A new band consisting of two members of Maybeshewill (Jamie Ward and Robin Southby) and James Stafford (formerly of Kyte) has been formed and is called Dark Dark Horse.
The quartet is rounded off by Joe Norledge.
Their debut album, 'Centuries'will be released through Function Records on 27th May.
A preview in the form of 'Mercury, Nevada' can be streamed by clicking read more.