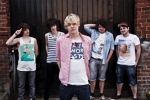 Manchester Alt Pop-Rockers Minutes To Recover are set to release their new album, 'Top To Tale,' on Monday November 26th on Banter Music.
1. Stereohype
2. This Friendship Sank
3. Itchin' For a Comeback
4. Running Home Empty
5. Life is a Party
6. Enjoy The Music
7. Rum Diaries
8. Close To Nothing
9. Own Worst Enemy
10. Left No Memories (Only Scars)
11. M.T.R
12. Walk Out
13. Outside of Sleep
The music video for 'This Friendship Sank' can be viewed by clicking read more.