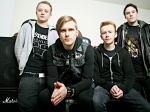 Guildford punk rockers Miss Vincent have released their new EP, 'Creepy'and is available to download for free on Bandcamp.
Miss Vincent will play the following dates this month.
September
20th The Cryer, Carshalton
21st The Rafters, Maidstone
22nd Subside Bar, Birmingham
23rdThe Lincoln Imp, Scunthorpe
24th Warehouse 23, Wakefield
25th The Boileroom, Guildford
26th The Square, Harlow
27th The Hole in the Wall, Colchester
An "Already Heard Track Guide" feature to 'Creepy' can be viewed here.
 <a href="http://missvincent.bandcamp.com/album/creepy" data-mce-href="http://missvincent.bandcamp.com/album/creepy">Creepy by Miss Vincent</a>