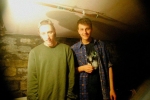 Nai Harvest has announced their debut album, 'Whatever' is set to be released through Pinky Swear Records and Dog Knights Productions in March.
Pre-order packages have just been launched and the album will be pressed on two different colours; pink / yellow swirl (150) and blue / yellow (350) with 10 test presses also available to pre-order.
Visit Pinky Swear Records to pre-order 'Whatever' by Nai Harvest.