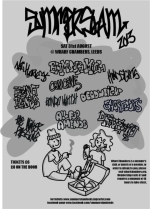 Leeds-based independent UK hardcore/pop-punk/emo festival Summerslam 2 has announced its initial line-up.
The one-day festival takes place at Wharf Chambers in Leeds on 31st August with the line-up including bands such as Nai Harvest, Hindsights, Shortcuts, 
Tickets are £6 (or £8 on the door) and can be purchased here.
The line-up so far:
Rumour Mill
Heavy Hands
Nai Harvest
Dead Weight
Hindsights
Driveway/The Winter Passing (combined set)
Concave
Shortcuts
All For Amends
Panda Watch
Further information can be found on the Facebook event page.
The poster for Summerslam 2 can be viewed by clicking read more.