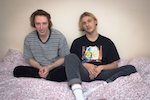 Nai Harvest have followed up their recent 'Hold Open My Head' EP by released a cover of Teenage Fanclub's 'Ain't That Enough'.
The track will be released tomorrow as part of Art Is Hard Records' 'Pizza Club' singles series, which offers a free single every other Friday throughout 2014.
Head on over to Stereogum or click read more to hear the bands cover.