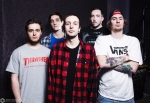 Giants have premiered their new single, 'It's Not All Bad News' and can be streamed by clicking read more below.
In additional news, the band have launched a compilation in support of the "Long Live Southbank" campaign, which sees the likes of Great Cynics, Marmozets and more show their support towards saving the London skate park.
Giants released the following statement regarding the campaign:
"We're sure it's no secret that we like skateboarding. Simply put, our band wouldn't be if it wasn't for skateboarding. Recently something has been happening in the skateboarding world that we feel so strongly about that we decided to take it upon ourselves to try and help out as much as we can."
"Earlier this year, The Southbank Centre revealed their plan to transform the iconic Southbank Undercroft skate park in London into retail units (Starbucks etc.) as part of their £120 million redevelopment of its Festival Wing. We believe Southbank is just as much as a landmark in our country to us as anything else that stands on its streets and it needs to be saved.
"We as a band are going to be organising a downloadable compilation 'mixtape', with the sole purpose of spreading the word and raising awareness for the 'Long Live Southbank' campaign, set up to protect Southbank from the fate that it has unfairly had placed upon it.
"This compilation will be absolutely free to download and as well as some brand new material from us, it will feature new/old/un-released material from bands all over that share the same view as we do about saving the historic Southbank undercroft." 

"By downloading the compilation you will be directly signed up to Long Live Southbank's campaign and will be instructed on how you can do your part to save Southbank."
We will have more info on featuring bands and release info available very soon. We can confirm the following bands so far will be featured:
Giants
Great Cynics
Marmozets
Darko
Still Bust
Scouts
Public Domain
Forsaken
CB6
If you would like to put your band forward for the compilation please email us onskatepunkforsouthbank@gmail.com
Do your part to save Southbank by joining the campaign: 
www.longlivesouthbank.com/membership/
www.surveymonkey.com/s/longlivesouthbank
@savesouthbank / #savesouthbank
www.facebook.com/LongLiveSouthbank
Don't forget you can win tickets to Giants' show with H20 in Leeds right HERE.