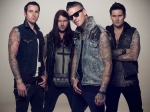 Glamour Of The Kill have revealed their new video for 'Second Chance'.
The video was filmed with director Robby Starbuck (Asking Alexandria, Escape The Fate, Snoop Dogg) in LA and can be viewed by clicking read more.
Glamour Of The Kill will release 'Savages' on September 23rd in the UK and Europe through SPV.