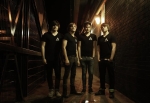 Sheffield's Inherit The Stars have posted a new song called 'Caught In The Crossfire' and can be streamed by clicking read more.
The band formerly known as Decode recently completed recording their début album, and is set to be released in early 2013.
Visit the bands Facebook page for more info.