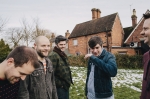 Stagecoach have announced the first single from their forthcoming debut album will be released on 25th March through Alcopop Records.
The single is titled 'Work Work Work' will be released as a limited edition A3  and can be streamed by clicking read more below.
In additional news Stagecoach have announced details of a unique UK tour which will see the band play various record stores.
March
4 Banquet Records, Kingston
5 The Lexington, London w/Concrete Knives
6 Crash Records, Leeds
7 Pie & Vinyl, Southsea
8 Truck Store, Oxford
9 Rise Records, Bristol
10 Rise Records, Cheltenham