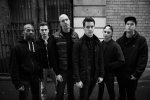 London hardcore band TRC have confirmed their new album, 'Nation' will be released in the UK and Europe on 23rd September via Siege Of Amida Records/Century Media.
The North America release will be through No Sleep Records a day later.
A teaser trailer can be viewed after the read more jump.