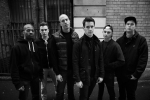 TRC have premiered their new video for '10,000 Hours' and can be viewed by clicking read more.
Chris Robson (vocals) commented on the video:
"It was great to work with Daniel Broadley again, after the fantastic job he did on 'We Bring War'. The tune is about the rule of success being 10,000 hours of applied effort, and was inspired by Malcolm Gladwell's book, 'Outliers'. No matter what the distraction, we've kept pushing on with TRC. 10,000 hours equates to approx. 10 years, which is quite funny because TRC released our first demo 10 years ago. What's even funnier, was the fact we recorded the band performance scene in the studio where we recorded that very first demo. Everything came full circle. It's my favourite track off 'Nation'."
TRC's new album, 'Nation' is available now on Siege Of Amida Records/Century Media.