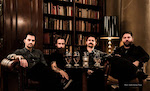 Norwegian heavy rockers Wolves Like Us have unveiled their new video for 'I Don't Need To Be Forgiven' and can be viewed by clicking read more.
The track comes from the bands upcoming album 'Black Soul Choir,' which is released on 24th February via Prosthetic Records.
The release will be supported by a one-off UK show at the Barfly in London on 8th February.