It's a Bank Holiday, and there are plenty of noteworthy releases out today that are ready to be the soundtrack to your weekend. Whether you're heading to Reading and Leeds, All Elite Wrestling at Wembley Stadium (like me), or just enjoying the last few days of summer, then let Already Heard's #NewMusicFriday round-up be your musical guide for this weekend.
When it came to choosing the releases to lead with this week, I was spoilt for choice. While new albums from  The Armed, The Word Alive, and Asking Alexandria see the light of day, I decided to focus on three truly noteworthy albums. First up, Holding Absence return with their tremendous third album; 'The Noble Art of Self Destruction'. Longtime Already Heard favourites Spanish Love Songs broaden their musical scope amongst the usual "doom and gloom" with 'No Joy'.  While Manchester alt-pop-rockers Hot Milk leave their mark with their debut album – 'A Call To The Void'.
If that's not enough for you, Bowling For Soup do 'a Taylor Swift' and have re-recorded some of their greatest hits. Whereas MxPx, London alt-grunge upstarts Uzumaki, Toronto metallic hardcore punks lowheaven, and "bedroom arena rocker" Des Roc are just of this week's other releases.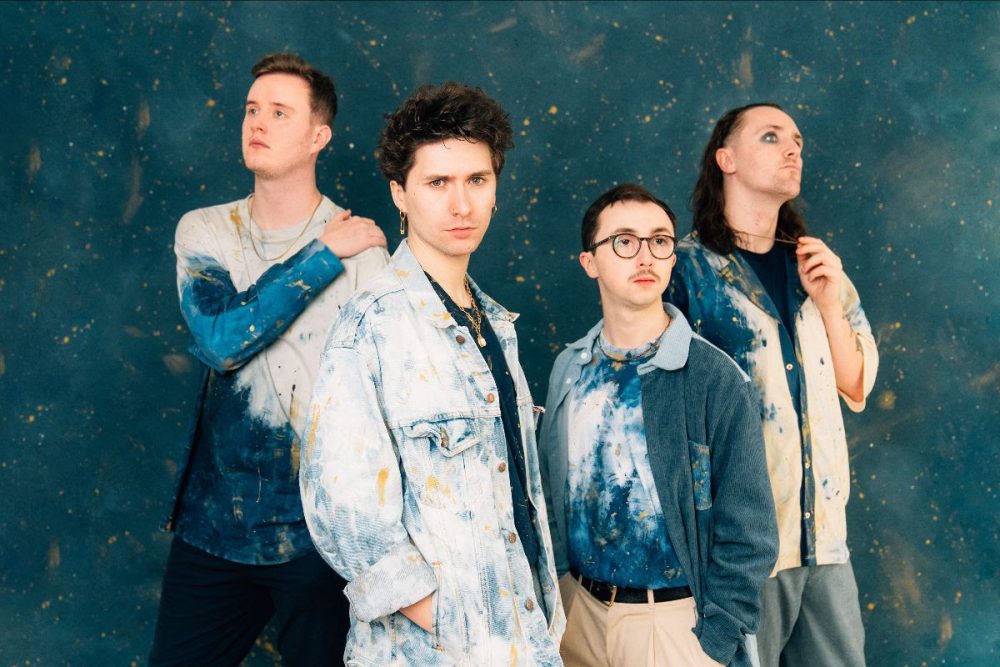 Holding Absence – The Noble Art of Self Destruction
The trajectory of Holding Absence has been somewhat momentous. 2019's eponymous full-length delivered beyond expectations, while 2021's 'The Greatest Mistake of My Life' added more fire to the steam train with organic maturity. 'The Noble Art of Self Destruction' completes a trilogy of records based on love, loss, and self-care; themes that are a bedrock of Holding Absence's songwriting.
Likewise, the towering anthemic hooks and cinematic flourishes firmly remain in place yet this time round they're bigger and more cohesive. From the outset of 'Head Prison Blues', frontman Lucas Woodland gives it his all, exploring themes of depression, imposter syndrome, and self-love while constantly knocking it out of the park vocally. Followed by a hat-trick of pre-release singles, 'A Crooked Melody', 'False Dawn', and 'Scissors' each individually and collectively utilising and enhancing Holding Absence's reliable traits.
'A Crooked Melody' is a powerful onslaught of personal reassurance, backed by IMAX-sized hooks. Likewise, False Dawn' soars with added gang vocals of "I'll let you down again", before 'Scissors' borders on post-hardcore tendencies with hefty guitars and Woodland's repeated screams of "I'm sick of myself". Later on, 'Death, Nonetheless', ignites with Ash Green's drums and Scott Carey's subtle blistering fretplay. Again, gang vocals are employed to create a stadium-size conclusion; "Death to the beat of the drums overarching / Death, nonetheless is constantly marching." 
Although Holding Absence unbelievably thrive when providing towering, emotive alt-rock, they're equally confident to reign things in. 'Honey Moon' tenderly swoons in its balladic skin and grandeur, whereas 'These New Dreams' allows Woodland's words to float with grace against a stirring and punchy backdrop.
'Liminal' offers one final energetic slice of ferocious melodic rock. It highlights Holding Absence's ability to neatly implement electronic elements to build a compelling atmosphere, before delivering one final almighty blow. It's followed by the album's conclusion – 'The Angel In The Marble'. Carried and executed with grandness, while pushing Woodland's songwriting to the limit. Expressing his flaws, acceptance and perseverance in a beautifully poetic and open manner; "I am a work of art in the making".
In short, 'The Noble Art of Self Destruction' sees Holding Absence once again enhance the positives, pushing them to the best of their ability, and hiding the negatives, if at all. Lucas' overtly self-critical narrative creates a compelling, and relatable, spine to a record that thrives with musical confidence. Along with bassist Benjamin Elliott, Woodland, Carey, and Green, have collectively made an album that is undeterred by the weight of expectation. A triumphant conclusion to a near-perfect trilogy.
Spanish Love Songs – No Joy
When Spanish Love Songs released 'Brave Faces Everyone' in February 2020, they accidentally foresaw and captured the changing world that would follow months after; existential dread, depression, gun crime, addiction, etc. Its accompanying reimagining ('Brave Faces, Etc') last year allowed the LA-founded band to explore their sound. Now as they return with 'No Joy', this next evolution of Spanish Love Songs is one that is optimistic and melancholy.
On the surface, this sounds like a different Spanish Love Songs. Where previously anthemic punk rock was prioritised, the aforementioned 'Brave Faces, Etc' has opened the door that leans towards alt and indie rock, yet the "doom and gloom" lyricism remains intact. Early tracks such as 'Haunted' with its 80's synth glaze are opposed by tales of "another body in the McDonald's parking lot" and a reminder "it'll be this bleak forever". However, vocalist and guitarist Dylan Slocum has, to an extent, turned the corner offering a bit of hope throughout.
As a lyricist, he continues to be a vital, on-point asset to Spanish Love Songs, bringing a dark, poetic quality. On the atmospheric 'Middle of Nine' he serves up impactful lines like "That black hole ate all of your serotonin, and no one asks why you're ready to go," while remembering his late grandmother. 'I'm Gonna Miss Everything' recalls the anxiety of being suicidal, yet a drop of hope in still being here a "decade since". Whereas 'Rapture Chaser' accepts that "The pain is everywhere" amongst a sea of dizzying keys courtesy of Meredith Van Woert.
Without a doubt, her contributions are more substantial than previous SLS releases. Throughout, she provides a glimmer of hope. Whether that's on stirring swells on the tender 'Exit Bags' or the sprinkling melodies on 'Marvel'. While on 'Clean Up Crew', she combines with bassist Trevor Dietrich, and drummer Ruben Duarte to create a rigid groove, exemplifying the broader sounds 'No Joy' offers. Slocum and Kyle McAulay's guitar work is lighter and less dependent on explosive punk; 'Pendulum' is led by twinkling acoustics, drifting chords, and a sturdy rhythm. Although some songs lack a lasting impact when alone, when threaded together they create a captivating narrative that equally keeps in line with SLS' downbeat lyricism. However, it's evolved past the point that everything is shit.
'Re-Emerging Signs of the Apocalypse' brings it all to a head. Van Woert's synth keys dominate the verses, adding to the lyrical tension of personal and socio-political distress, segueing into a radiant, guitar-driven finale of acceptance – "we're a part of the equation". Thematically, it magnifies 'No Joy's notion that things are bad, yet Slocum can't control or change it all and has accepted perseverance.
While 'No Joy' might not be an instant classic like its predecessors, it's a welcoming return and evolution.  Spanish Love Songs continue to be cohesive in their craftsmanship while confidently taking stylistic strides, adding a rich shine to their familiar lyrical tone.
Hot Milk – A Call To The Void
When Hot Milk launched some four years ago, there was a sense of curiosity as to why this new Manchester mob was landing festival spots and support slots. Fast-forward to the present day and the duo of Han Mee and Jim Shaw have certainly paid their dues. In addition to putting an abundance of road (and air) miles on the clock (minus that time the world stopped for a few months), Hot Milk have been honing their sound with a mix of vibrant and punchy EP and singles. In short, they've built up plenty of momentum. And with the release of their debut album, 'A Call To The Void', it's been worth the wait.
Supercharged by preceding singles such as 'Horror Show' and 'Party On My Deathbed', the duo serves up a raucous and electrifying brand of alt-rock. Fizzying with sonic power-pop and occasional hip-hop/grime and metalcore traits scattered throughout, Hot Milk throws a lot at the wall and most of it sticks. Awashed with personality, 'A Call To The Void' lyrically delves into a young rock band's exuberance and vulnerable side, touring the world, looking to make their mark.
At one point you've got the tongue-in-cheek pop-punk of 'Alice Cooper's Pool House' (featuring a spoken word cameo from the man himself), then next the desperate cries of "get me out, get me out" on 'Zoned Out'. Elsewhere 'Over Your Dead Body' captures the pair's darker side with a blast of symphonic metalcore before 'Migraine' boils to a raging explosion of touring burnout, admitting "I don't want to keep living / So I just keep living it up". When it's combined with a host of contagious hooks, you can't help but keep coming back for more.
Recent singles, 'Bloodstream' and 'Breathing Underwater' perfectly exemplify this. The former is an infectious alt-pop, club-ready delight, with the latter showing Mee's and Shaw's ability to write stadium-size ballads, especially with the stereotypical note-change finale.
'A Call To The Void' is Hot Milk's statement of intent. No matter how burnt out or having self-doubt or weighed down by the burden of being a rising band, they've pulled through. Their debut is unapologetic in its execution, pouring themselves into every nook and cranny of it.
What is out on #NewMusicFriday?
Holding Absence – The Noble Art of Self Destruction
Spanish Love Songs – No Joy
Hot Milk – A Call To The Void
The Armed – Perfect Saviors
The Word Alive – Hard Reset
Asking Alexandria – Where Do We Go From Here?
Bowling For Soup – Songs People Actually Liked, Vol. 2: The Next 6 Years (2004-2009)
MxPx – Find A Way Home
Broken Record – Nothing Moves Me
Uzumaki – Square One
Ashnikko – Weedkiller
Be Your Own Pet – Mommy
lowheaven – Collapse
Des Rocs – Dream Machine
Laurence Jones – Bad Luck and The Blues
Marc Hudson – Starbound Stories
SISTERS – Leecheater
Monasteries – Ominous
Heirloom – ROMANTICIZE
Lucky Thief – DIY
Lions At The Gate – The Excuses We Cannot Make
Zonezero – The Chaos Theory
If you think I've missed something or have a new album/EP/song to tell us about, tell us about it here.
If you're looking for the latest tracks focusing on rock, punk, hardcore, metal, emo, and everything in between, then check out our 'Newish Music' playlist on Spotify or Apple Music.