It's a new month, and while some may already be listening to their festive playlists, there's still plenty of new music to get stuck into. Today's #NewMusicFriday backs this up in abundance.
When it comes to new albums, there's a mix of emo-infused pop-punk from Youth Fountain, a double dose of metalcore courtesy of Atreyu and Silent Planet, radio-friendly metal (Bad Wolves), and The Struts unfortunately continue to ride the classic rock revival wave.
While San Francisco newcomers Spiritual Cramp serve up a blend of melodic (post-)punk, indie, and hardcore on their eponymous full-length. Dublin's The Scratch delivers an interesting and progressive take on the folk-metal genre with 'Mind Yourself'. If you're looking for a conceptually sprawling metalcore, then 'Suicide In The City' from Birmingham mob Cauldron is one for you.
As for EP's, Spiritbox continues their momentum with 'The Fear Of Fear'. Sugar Horse prolongs the "A" note with 'Truth Or Consequences, New Mexico'. While Finnish metal melancholists Insomnium share 'Anno 1696's accompanying EP – 'Songs of the Dusk'.
On the homegrown front, there is new music from Sadness & Complete Disappointment, punk-infused alternative metallers HAWXX, and folk-punk from Black Water County.
Finally, for those wanting some heavy sh*t, there are new releases from Fuming Mouth, Dying Wish, and Suffocation.
---
---
---
---
Photo Credit: Jonathan Weiner
Spiritbox – The Fear Of Fear EP
Upon its release in September 2021, 'Eternal Blue' was one of the most anticipated metal releases of the year. The hype wasn't helped by a tonne of very positive reviews. But was the hype excessive and overblown? Definitely. 'Eternal Blue' had its moments yet I never saw it as this genre-defying beast many made it out to be. In the years since, Spiritbox have continued to rise, building on the momentum of 'Eternal Blue'. Besides their live reputation, last year's 'Rotoscope' pushed their sound in a somewhat industrial direction. Fast-forward to the present, and we're now given 'The Fear Of Fear'.
If you think their success may have seen Spiritbox embrace their soaring pop sensibilities, you'd be wrong. 'Cellar Door' is the Canadian metallers at their heaviest. Its rolling dense drum working, whirling and stabbing guitars, and Courtney LaPlante's demonic growls quickly show they're not messing about. While creepy, atmospheric synths twinkle away in the background, adding to the intense atmosphere. Those same synths segue into 'Jaded', exploding with Mike Skinner's djenty guitars while LaPlante showcases her acrobatic vocals with a blend of melodies and screaming.
It capitalises on the traits that have made Spiritbox such a big name in recent years. Its big soaring chorus, versatile pacing, and roaring, heavy instrumentation is a winning combination. 'Too Close / Too Late' is glacial with its tender opening and ringing guitars, yet its steady tempo pays off with a towering chorus. While Zev Rose's drums shine during the track's second half, pounding away alongside Skinner's escalating guitar. Likewise, 'Angel Eyes' is dominated by machine-gun drums, thick riffs, and LaPlante's screams with only layered electronic beats providing a momentary break before further chaos ensues.
Past single, 'The Void' leans into Spiritbox's "accessible" side with the heavy use of production with a hint of progressive metal. Its chorus is a punching adrenaline rush with LaPlante providing an earworm melody. Furthermore, 'Ultraviolet' strips back the heavy guitars briefly, allowing LaPlante's alluring voice to truly shine, taking a balladic approach.
Spiritbox could have easily slapped together some 'Eternal Blue' leftovers and put something out to please their fanbase. Instead, they've delivered a concise set of songs that highlight their dynamism and strong songwriting. 'The Fear Of Fear' removes the recycled ideas that hindered 'Eternal Blue', opting to hone in on their collective and individual qualities. Whether that's earth-shattering breakdowns, soaring melodies, or the precision of the ebb-and-flow of both, it's a reminder of Spiritbox's best qualities.
Youth Fountain – Together In Lonesome
Youth Fountain, the emo/pop-punk project headed up by guitarist/vocalist Tyler Zanon, has tapped into a market that young and "elder emos" can relate to. The Vancouver, BC native has developed a dedicated following for his relatable yet personal songwriting, and album number three, 'Together In Lonesome', is no different.
Early tracks, 'Requiem' and 'Fallen Short' soon lay down a strong foundation of surging pop-punk with woe-is-me lyricism. Sounding like he'd feel right at home on the Vans Warped Tour in the 2000s, The latter is a pounding, hook-filled number about being "never enough".
When Zanon's not pulling off routine emo/pop-punk bangers such as the lyrically heavy 'Roses In My Backpack', or the punchy 'Clarity', he's pulling at heartstrings. 'Patterns' documents "holding out for false hope", emphasising the heavy mental health tone Zanon takes throughout 'Together In Lonesome'. Unfortunately, these tender moments are too few and far between.
As the closing title track shows, Youth Fountain is able to do the whole big and catchy pop-rock style with ease. However, it does take away from the emotionally heavy anchor that Zanon aims to thread on these 12 tracks. Nevertheless, there is a poetic quality to his intricate and introspective songwriting.
Stylistically, Youth Fountain and 'Together In Lonesome' deliver in providing heartfelt emo/pop-punk. While there's a hint of nostalgia drifting throughout, Zanon thankfully never goes all in on yesteryear tropes, maintaining his credibility in the process.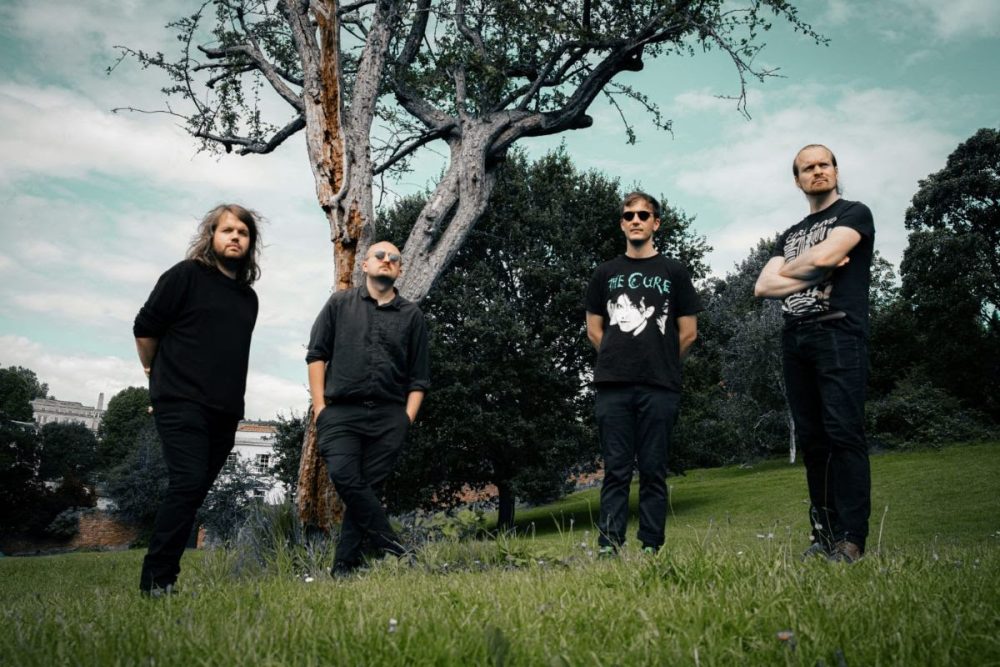 Sugar Horse – Truth Or Consequences, New Mexico
Doom and gloom is Sugar Horse's game and they push it to its limits on 'Truth Or Consequences, New Mexico'. Designed to take the A note and explore it "in all its possible variations", this "EP" should be listened to as it is intended to – one track split across six chapters.
Over the course of eighteen minutes, the quartet go from unsettling a cappella with droning guitars to razor-sharp doom merchants, to shimmering post-rock to chugging metal. Its structural ebb and flow is brilliantly paced as the ethereal 'Consequences' gives way to 'Comma's plodding tempo and sawing riffs. While a wall of twisting feedback dominates 'Neu' as Chris Howarth's rumbling bass and Martin Savage's steady tempo attempt to hold it down, the extensive feedback segues into the near-silent conclusion.
'Mexico' lures you in with barely audible acoustics before erupting with thick, doom-laden guitars. As Ashley Tubb's screams of "Inhale, Exhale" fade off into the distance against a black backdrop of more feedback and twiddling guitars, it ends the "EP" on the same ominous note it began with.
'Truth Or Consequences, New Mexico' is an unsettling listen, showcasing the various monochrome tones of Sugar Horse's arsenal. Its twists and turns lure you in, taking you on an experimental, and treacherous, path, aiming to scare and comfort you in equal measure. In short, it's a captivating listen that allows a band to push the boundaries of non-conformity.
What is out on #NewMusicFriday?
Spirtbox – The Fear Of Fear
Youth Fountain – Together In Lonesome
Atreyu – A Torch In The Dark
Bad Wolves- Die About It
The Struts – Pretty Vicious
Sugar Horse – Truth Or Consequences, New Mexico
Silent Planet – Superbloom
Spiritual Cramp – Spiritual Cramp
Sleep Outside – Lakes In Which To Drown In
Mugshot – Cold Will
Sadness & Complete Disappointment – GNH
HAWXX – Earth, Spit, Blood and Bones
Cauldron – Suicide In The City
The Scratch – Mind Yourself
Black Water County – The Only Life Worth Living
Insomnium – Songs of the Dusk
Time Spent Driving – Estrangers
Dying Wish – Symptoms of Survival
Paint It Black – Famine
Green Lung – This Heathen Land
Gong – Unending Ascending
Fuming Mouth – Last Day Of Sun
Hotline TNT – Cartwheel
Suffocation – Hymns From The Apocrypha
Watain – Die In Fire – Live In Hell (Agony And Ecstasy Over Stockholm)
Morne – Engraved With Pain
Hollow River – We're Going To Be OK
Gozer – The Path Always Leads To The End
My Octopus Mind – Trying To Be Normal
Gale Forces – Highlights of Existence
If you think I've missed something or have a new album/EP/song to tell us about, tell us about it here.
If you're looking for the latest tracks focusing on rock, punk, hardcore, metal, emo, and everything in between, then check out our 'Newish Music' playlist on Spotify or Apple Music.