It might be no surprise to you, but it's another stacked #NewMusicFriday!
For starters, blink-182 returns 'One More Time…' with the classic line-up of Mark Hoppus, Tom Delonge, and Travis Barker.
However, there's so much more than that. Music legends, The Rolling Stones return with 'Hackney Diamonds'. While there's another comeback in the form of Boys Like Girls. While Bad Rabbits drop 'Garden Of Eden', their first album in five years.
If you're looking for two unmissable releases this week, then I urge you to listen to the new releases from The Callous Daoboys and Dreamwell. For further heaviness, there's new music from the likes of symphonic metallers Within Temptation, and one-woman Italian metal band Marthe. While Ice Nine Kills brings an end to the 'Welcome to Horrorwood' era.
On the more "accessible" side, Knuckle Puck deliver their fourth album – 'Losing What We Love'. So Cal rockers Carpool Tunnel bring the summer vibes (in October) with 'Don't Let Them Pass You By'. While 'chaos takes the wheel and i am a passenger' by awakebutstillinbed is sure to satisfy those wanting some straightforward raw emo.
When it comes to guitarists from massive bands going solo, we're treated to a double dose as Guns N' Roses' Duff McKagan and Foo Fighters' Chris Shiflett both go out alone.
Finally, there are also releases from Reverend Kristin Michael Hayter (FKA Lingua Ignota), Myrkur, ME REX, Oxymorrons, Catch Your Breath, Chroma, Rival Sons, Skinny Lister, and more.
---
---
Jump to the good stuff
---
---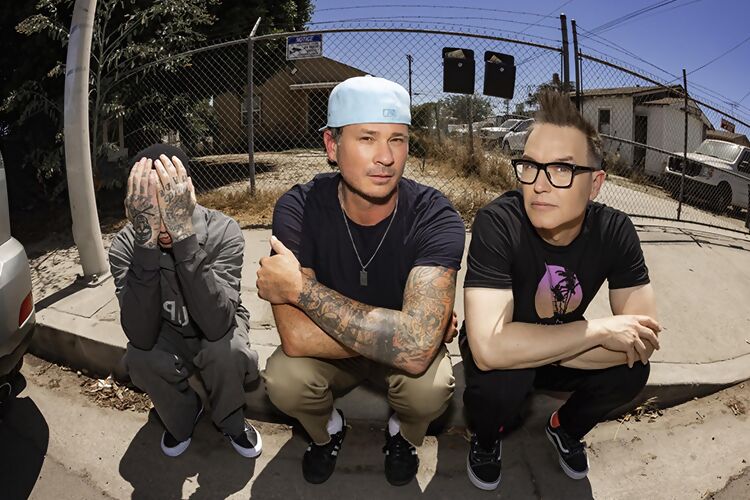 blink-182 – One More Time…
For clarity, this "review" is based on the six tracks that are already out in the public domain at the time of rating. Trust me, I tried to get an advance but we're a one-man DIY operation, and not Rolling Stone.
So what is there to expect of 'One More Time…'? For starters, Tom DeLonge is back in the blink-182 fold. Unlike 2011's 'Neighborhoods' mismatched creation, he, Mark Hoppus and Travis Barker, recorded 'One More Time…' together in the same studio, with Barker taking on production duties.
If there's one thing to state from its preceding singles, it is that 'One More Time…' won't entirely lean on the legacy Tom, Mark, and Travis. 'Dance With Me' is an infectious tale of young love with Hoppus' and Barker's rhymic rumble. 'Fell In Love' is a playful, sun-soaked track that is the weakest of the bunch. Whereas 'Edging' is considerably a bridge between the familiar and new blink. It's a punchy and catchy number that has an annoying hook that you want to hate, but you keep coming back to it.
'More Than You Know' thrives due to its punk rock injection, partly due to Barker's precise drumming. 'You Don't Know What You've Got' tilts towards 'One More Time…' sentimental core. Its steady pacing and plucky bass provides the track with a sense of familiarity and a hint of wiseness. Yet, its simplistic, repetitive chorus makes the track pretty forgettable.
Then there's the title track. 'One More Time' is blink-182 at their most honest and raw. Touching on the turbulent relationship between the trio have had for the best part of 20 years (mostly because of DeLonge), its stripped back, allowing DeLonge and Hoppus to be frank, not to just their fans, but to themselves and each other. Casual listeners will likely find the track to be overly sappy, yet for the wealth of longtime fans, it's a sentimental, heart-tugging celebration of friendship.
If the six tracks on offer have given us anything, it is that 'One More Time…' is going to be a rollercoaster of emotions, especially with 17 songs on offer. However, having witnessed them on their recent UK tour, the new songs are, and will be, very much blink-182 at their core. Driving rhythms, hooky choruses, a dose of emotional sentiment, and a touch of juvenile humour.
Knuckle Puck – Losing What We Love
It's kinda strange to think it's eight years since Knuckle Puck delivered their memorable full-length debut, 'Copacetic'. Since then, they've built a reasonably strong arsenal of songs to maintain their status. It's found the Chicago group as one of modern pop-punk's more renowned band, yet they've never dared to stray from the genre.
Unfortunately, 'Losing What We Love' doesn't look to end that trend. Don't get me wrong, it's an acceptable outing and provides everything you want from a Knuckle Puck record; hooks, introspective lyrics, and emotional melodies. But this fourth outing cautiously leans towards "playing it safe".
Sure, they've torn off the optimistic lyrical band-aid to take a more straightforward approach. Whether that's on seeing through someone's BS on 'You & I', or the constant feeling of being on the receiving end of bad luck ('A New Beginning'), Knuckle Puck are dipping their songwriting toes in a ruthless pool, yet never full cannonballing into it.
Musically, Knuckle Puck have never been a band to hold tightly onto the effervescent pop-punk tropes, always showing a willingness to rein things in. 'Groundhog Day'  and the sentimental closer 'Fool', highlight their emo tendencies neatly. The former is dynamically executed, while the latter dwells in its reminiscent skin with plucky guitars and steady beat.
In contrast, 'Out of Touch' shines thanks to its bright guitars courtesy of Nick Casasanto and Kevin Maida. Whereas the title track highlights their tried-and-tested formula of combining punchy pop-punk with softer, harmonious passages. 'Worlds Apart' allows drummer John Siorek and bassist Ryan Rumchaks to shine equally. Siorek provides colourful drum patterns while Rumchaks' bass lines are ideally sturdy.
Like a lot of Knuckle Puck's output, 'Losing What We Love' is just fine with only a handful of tracks you're likely to come back to. After four albums, the quintet have crafted a reassuring style that hardly evolves. For example, Joe Taylor's vocals ebb and flow with a distinctiveness, while his bandmates stir up a tonally warm brand of emo pop-punk. The die-hards will find little to complain about, but those wanting to hear more risks will be left disappointed.
The Callous Daoboys – God Smiles Upon The Callous Daoboys
How do you remind everyone you're one of the most bat-shit crazy bands around? By releasing a three-track onslaught that packs in more than it has any right to do so. This is The Callous Daoboys.
The Atlanta mob turned heads last year with their second full-length, 'Celebrity Therapist'. It saw them produce a kaleidoscopic mix of hardcore, avant-garde jazz, mathcore, and ambient interludes in the most seamlessly jarring way possible. Just a year or so on, they're now back with 'God Smiles Upon The Callous Daoboys'. Which considerably crams in all those aforementioned styles and more in under 15 minutes.
The first 40 seconds of opener, 'Pushing The Pink Envelope' involves a brief moment of calmness, a blast of metal, before breaking into a fleeing bit of electronica. Within the next minute, we're given a hefty breakdown, a slice of crooning lounge music, and a quickfire blast of EDM. On paper, this sounds like a complete and utter mess, but TCD doesn't make the musical changes feel forced. As massive, metalcore guitars take over the track, Carson Pace demonstrates his vocal versatility, showcasing the band's capability to write towering hooks.
'Waco Jeans' embraces TCD's technical proficiency and combines it with a reasonably stable structure. Daniel Hodsdon and Maddie Caffrey's guitars blare out relentlessly as bassist Jackie Buckalew and drummer Matthew Hague anchor down a rhymic chug. Pace matches the sheer ferociousness vocally, making the track a powerful and muscular onslaught.
'Designer Shroud of Turin' sees TCD head back into more chaotic territory. Metalcore blasts, rapid riffs, groove-ridden melodies, hip-hop beats, salsa flair, succulent saxophone, and more are thrown into the sextet's musical blender, with a helping hand from Virginia mob pulses. It's a dizzying yet thrilling 5-and-a-half-minute conclusion that exemplifies TCD's cluttered but overly exceeds style.
Whether you're hearing The Callous Daoboys for the first time, or you've been following their journey for the past six years, this is a perfect snapshot of their unlimited brand of mathcore.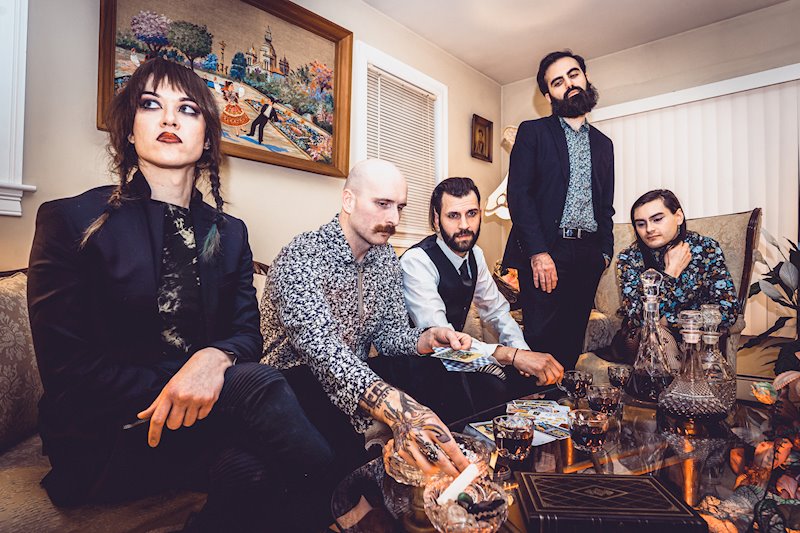 Dreamwell – In My Saddest Dreams, I Am Beside You
On their 2021 full-length debut, 'Modern Grotesquerie',  Providence-based outfit Dreamwell were heralded for their cathartic brand of screamo. Now two years on, the quintet find themselves part of the 
Prosthetic Records roster, and with a new album. While its predecessor was a jagged collection, 'In My Saddest Dreams, I Am Beside You' is delivered with conscious intent.
'Good Reasons to Freeze to Death' opens the album in a radiant manner with vocalist KZ Staska setting out the stall for the loose narrative of a character dealing with Borderline Personality Disorder. While Aki McCullough and Ryan Couitt's guitars ring out, contrasting Staska's more vocally harsh moments.
As 'In My Saddest Dreams…' settles into its ebb and flow, you become aware of Dreamwell's melodic nuance. Whether that's the opening minute or so of 'Studying the Greats in Self-Immolation' or 'Lord Have MRSA On My Soul' hinting at a pulsating slice of melodic post-hardcore before taking the leash off with Anthony Montalbano's batter ram drumming, or 'Reverberations of a Sickly Wound' drifting along with swelling guitars and Staska's spoken word delivery.
However, Dreamwell are still classified as a screamo band, and they live up to the label. For example, 'All Towers Drawn in the Equatorial Room' is venomous, partly due to guest vocals from Nick Holland (Wounded Touch). It sinks its teeth into sludgy heaviness, building a hypnotic picture of descent, crashing into a land of madness. 'Obelisk of Hands' chugs along savagely before Logan St. Germain of ANKLEBITER provides an angelic clean vocal. 'Blighttown Type Beat' teases to be drenched in a wall of feedback, yet heads in a panic-stricken direction with anxiety-ridden lyrics and a riveting bass line courtesy of Justin Soares. Whereas 'Body Fountain' is simply a minute-long rampage.
The lengthy pairing of 'I Dream't of a Room of Clouds' and 'Rue de Noms (Could Have Been Better, Should Have Been More)' round out the album perfectly. The former sends you into a mesmerising daze with its gradual build, leading to an empowering wall of sound. It's followed by a cathartic finale that goes back and forth between drifty verses dominated by Soares' dwindling bass line and Staska's angst-stricken and Montalbano's pummelling chorus. While McCullough and Couitt's riveting guitars are the cherry on top.
Although 'In My Saddest Dreams, I Am Beside You' doesn't instantly deliver on first listen, if you dig deep and persist, you'll discover one of the best screamo/post-hardcore releases in recent years. It confidently expands, and explores, beyond the borders of that genre, while maintaining its loose narrative exploration of BPD.
What is out on #NewMusicFriday?
Blink-182 – One More Time…
Boys Like Girls – Sunday At Foxwoods
Knuckle Puck – Losing What We Love
The Callous Daoboys – God Smiles Upon The Callous Daoboys
The Rolling Stones – Hackney Diamonds
Within Temptation – Bleed Out
Ice Nine Kills – The Silver Scream 2: Welcome To Horrorwood (Deluxe Edition)
Static Dress – Vol. 2
Reverend Kristin Michael Hayter – SAVED!
Dreamwell – In My Saddest Dreams, I Am Beside You
Duff McKagan – Lighthouse
Chris Shiflett – Lost At Sea
Bad Rabbits – Garden of Eden
Myrkur – Spine
ME REX – Giant Elk
awakebutstillinbed – chaos takes the wheel and i am a passenger
Skinny Lister – Shanty Punk
Catch Your Breath – Shame On Me
Carpool Tunnel – Don't Let Them Pass You By
Ho99o9 – Presents Territory : Turf Talk, Vol. II
Oxymorrons – Melanin Punk
Rival Sons – Lightbringer
Cherie Amour – Some Songs
Chroma – Ask For Angela
Marthe – Further In Evil
Wratheon – Becoming Nil
Sun June – Bad Dream Jagua
The Bottom Line – Here We Go Again
Dirty Sound Magnet – Dreaming In Dystopia
Darwells – Life
Structure Sounds – Light Up Your Sorrow
headcage – under my skin
newshapes – i hope this finds you
Emily Wolfe – The Blowback
A Story Told – Mundane Magic
Appalooza – The Shining Son
If you think I've missed something or have a new album/EP/song to tell us about, tell us about it here.
If you're looking for the latest tracks focusing on rock, punk, hardcore, metal, emo, and everything in between, then check out our 'Newish Music' playlist on Spotify or Apple Music.