This week's #NewMusicFriday is loaded with a blend of impressive and noteworthy releases. For starters, Code Orange return with their fifth album, 'The Above'. It's been described as a "challenging" record that sees them take numerous bold new directions.
When it comes to impressive releases, the likes of Blood Command, and Koyo deliver favourable albums that are worth your time. You can also throw in releases from '68, Grove Street, King Nun, Pleiades, and Slow Pulp in that pool.
It's a stacked week for releases (again!) as there's also new music from Seattle punks Filth Is Eternal, alt-rock.prog from Haunt the Woods, Chicago metallic hardcore bruisers Harms Way, and a hybrid of trap and metal courtesy of BVDLVD.
---
---
Jump to The Good Stuff
---
---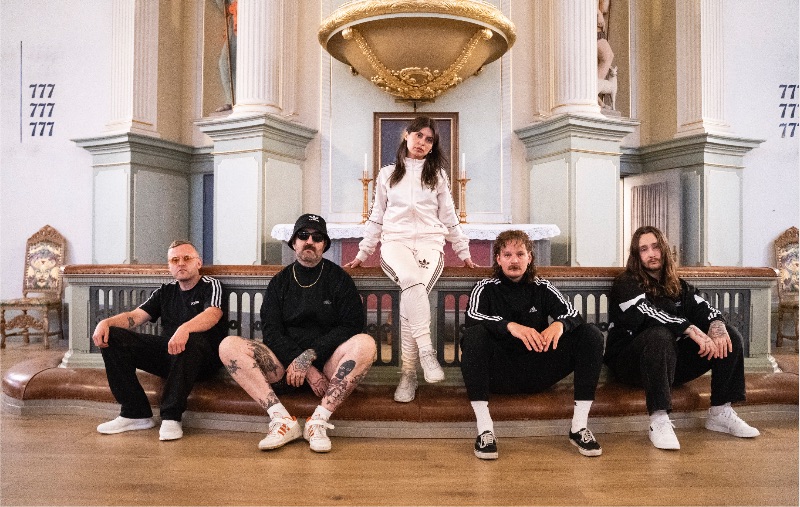 Blood Command – World Domination
Having welcomed Nikki Brumen on last year's 'Praise Armageddon', Norway-based outfit Blood Command is going all out on their fifth album – 'World Domination'. On paper, it's a fear-inducing 20-track slog with pre-emptied hints of experimentation. Thankfully at its core, 'World Domination' is a Blood Command record; a restless blast of self-styled "death-pop" with added stylistic twists.
Admittedly, these quirks don't always work. 'Welcome To The Next Level Above Human' jarringly gives us a brief dose of stomping Euro trance. Yet 'Burn Again' is the worst offender. Whether it's supposed to be a parody of gangsta rap, I'm not sure, but it's an album low point.
Thankfully, there are favourable turns. 'Decades' shimmers in its urban synth-laden, balladic skin. Later on, 'Losing Faith' allows Brumen and guitarist/producer Yngve Andersen to gently duet. Tinged with heartbreak and regret, the album's penultimate track comfortably embraces a country/folk sound.
In between all the twists, Blood Command carry an arsenal of instantaneous hardcore punk bullets. In short, it's what 'World Domination' thrives on. 'Heaven's Hate', 'Valley Of Hinnom', and 'Forever Soldiers Of Esther' are quick to reassure long-time fans as the Aussie frontwoman yelps against breakneck drums and spiky, metallic guitars. Elsewhere, 'Blue North' sounds momentous, even if it's less than 90 seconds.
In Brumen, Blood Command have a firecracker of a vocalist. From the raspberry-spitting venom on the hardcore romp of 'Stay Awake', the grrrl punk swagger on 'The Plague On Both Your Houses', or the numerous rapid-fire, adrenaline-fueled cuts that simply keep the momentum going (see 'It's Not Us, It's Them' or 'Keep My Seat Warm')
Although what they throw at the wall doesn't always stick, Blood Command take you on a (mostly) head-banging ride on 'World Domination'. Ultimately, it sees the Bergen-based band serving up a musical cocktail of punk, hardcore, and black metal, with a sprinkling of hip-hop, Europop, and country on top.
Koyo – Would You Miss It?
As someone who now runs this site by themselves, there are only so many hours in the day I can spend listening to new music (alongside working a full-time job). Despite this, I feel bad that I didn't listen to Koyo's debut album, 'Would You Miss It?' sooner.
Formed in 2020, they follow a lineage of Long Island, New York melodic hardcore bands, proving to be as genuine as possible. Furthermore, the quintet are childhood friends, which explains why there's a strong synchronal feel throughout. By having this solid foundation, combined with a detailed songwriting process, Koyo's creative bond flourishes by creating a record that is equally empowering and melancholy.
From the outset, Harold Griffin and TJ Rotolico provide guitar melodies that ring out against a rugged rhythm section of bassist Stephen Spanos, and drummer Salvatore Argento. While Joseph Chiaramonte balances out pop-punk-like hooks and post-hardcore shouts. Aided by producer Jon Markson (Drug Church, Regulate, One Step Closer), early tracks such as '51st State' and 'You're On The List (Minus One)' quickly set the benchmark. The latter especially has an addictive quality due its towering melody.
Throughout, the sporadic use of guest vocalists, Glassjaw's Daryl Palumbo, The Movielife's Vinnie Caruana, and Vein.FM's Anthony DiDio, bridge the gap between the past and present with ease. For example, Anthony DiDio's screams on 'Flatline Afternoon' complement snare-dominant pounding intensity. Whereas Palumbo's contribution on 'Message Like A Bomb' complements one of the album's best hooks as he effortlessly exchanges lines with Chiaramonte.
If you've grown up listening to the bands Koyo probably did too, 'Would You Miss It?' sounds familiar yet never fully indulges itself in nostalgia. Take late album cut, 'Postcards', as an example. It sees Chiaramonte reflect on a long-distance relationship that he's "determined to see this through". Picking out a standout track is difficult as Koyo have pulled off the unique trick of making a compelling yet unremarkable album. Threaded by Chiaramonte's ability to write strong hooks and sentimental coming-of-age tales, 'Would You Miss It?' finely embraces hardcore density, melodic flair, and accessibility. The end result is a compulsive record that you'll end up coming back to.
What is out on #NewMusicFriday?
Code Orange – The Above
Blood Command – World Domination
'68 – Yes, and…
Grove Street – The Path To Righteousness
Black Stone Cherry – Screamin' At The Sky
Meet Me @ The Altar – Past // Present // Future (Deluxe Edition)
Koyo – Would You Miss It?
Haunt the Woods – Ubiquity
King Nun – Lamb
Harms Way – Common Suffering
Pleiades – Affinity With
Slow Pulp – Yard
SiM – Playdead
Asinhell – Impii Hora
Taproot – SC\SSRS
Wolves In The Throne Room – Crypt Of Ancestral Knowledge
Heavy Lungs – All Gas No Brakes
Random Hand – Random Hand
The Hirsch Effekt – Urian
Filth is Eternal – Find Out
bvdlvd – ABSENCE
Blackbriar – A Dark Euphony
KK's Priest – The Sinner Rides Again
Blodet – Death Mother
Sleep Theory – Paper Hearts
Maggot Heart – HUNGER
Honeytalks – There's Hope In Hopeless
Snow Coats / Bony Macaroni – Split EP
Pulses. – It Wasn't Supposed To Be Like This
Atena – Subway Anthem
Gemini Parks – Mom, Why is everyones a Hoe?
Steven Wilson – The Harmony Codex
Graveyard – 6
Heavy Water – Dreams of Yesterday
Contour – I Can See How This Ends
Kurt Baker – Rock N Roll Club
If you think I've missed something or have a new album/EP/song to tell us about, tell us about it here.
If you're looking for the latest tracks focusing on rock, punk, hardcore, metal, emo, and everything in between, then check out our 'Newish Music' playlist on Spotify or Apple Music.