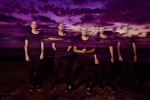 Sydney, Australia's Northlane will mark their UK debut on October 7th with the release of their new album 'Singularity' through UNFD.
1. Genesis
2. Scarab
3. Windbreaker
4. Worldeater
5. Quantum Flux
6. Dream Awake
7. The Calling
8. Masquerade
9. Singularity
10. Aspire
The video for 'Quantum Flux' can be viewed by clicking read more.
In addition Northlane will be part of the Impericon Never Say Die UK tour in October, which features Emmure, Carniflex, I Killed The Prom Queen,Betraying The Martyrs, Hundredth, and Rise Of The Northstar.