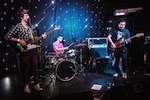 Birmingham/Sheffield emo trio Panda Watch have posted the first song from their forthcoming debut EP, 'Can I Borrow A Feeling?'.
The track is called 'Middle Of Everywhere Else' and can be streamed on Bandcamp or by clicking read more.
'Can I Borrow a Feeling?' is due to be released November 4th.