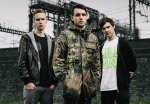 "Already Heard Recommends" alumni PaperPlane have announced their new EP, 'Rebuild,' will be released on 12th August.
1. Strings Like Ribbons
2. Live Her
3. All With Rivers
4. Chariot
5. Rose
The band recently filmed a X-Church live session video for the track 'Rose.' View the video after the jump.