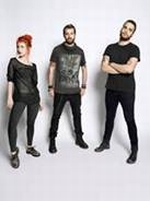 Paramore have revealed their new self titled album will be released in the UK on Monday April 8th. The first single from 'Paramore' is titled 'Now' and will be available in the UK from February 24th.
'Now' can be streamed by clicking read more.
1. Fast in My Car
2. Now
3. Grow Up
4. Daydreaming
5. Interlude: Moving On
6. Ain't It Fun
7. Part II
8. Last Hope
9. Still Into You
10. Anklebiters
11. Interlude: Holiday
12. Proof
13. Hate to See Your Heart Break
14. (One of Those) Crazy Girls
15. Interlude: I'm Not Angry Anymore
16. Be Alone
17. Future
Paramore are currently preparing for a Southeast Asian/Australian tour with more touring news expected to be announced soon.