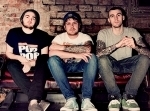 Liverpool's Pedestals have announced details of their new EP. 'Especially Average' will be released as a free download on 25th September.
1. Intro
2. The One After Vegas
3. Hours & Minutes
4. I'm On My Own Now And It Feels Great
The lyric video for 'The One After Vegas' can be viewed after the jump below.