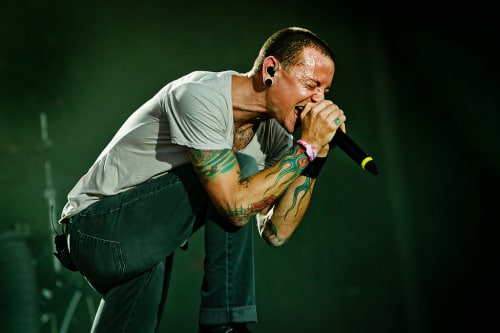 Last month, the music world was stunned by the sudden passing of Chester Bennington. In the days and weeks since his death, friends and fans have been paying tribute to the Linkin Park vocalist.
Labelled by some as the band's "greatest asset", Bennington's music has influenced and inspired many since emerging from California in 2000. Over the past 17 years, Linkin Park has evolved from their rap-rock beginnings, experimenting in hip-hop, electronica, hard rock and alt-pop. While their impact and relevance has never diminished.
Here at Already Heard, we have decided to pay tribute by speaking to a host of bands who credit Bennington and Linkin Park as an inspiration.
Everyone here at Already Heard would like to send our deep condolences to Bennington's family, friends and fans.
One Step Closer
Sêan Reid (Already Heard Founder)
Like many people, my age, 'Hybrid Theory' arrived in the middle of my teens. By the time I heard 'One Step Closer', I was firmly in a "nu-metal" bubble revolving around Limp Bizkit, KoRn and Papa Roach. However 'Hybrid Theory' went beyond the stereotypical mix of rock and rap. It had the same angst of those bands but through Chester Bennington's convincing and honest tales of hurt and frustration, Linkin Park was a band that spoke to me at a time when I was frustrated with school and be bullied.
'One Step Closer' especially captured that frustration and disillusionment of teenage life. While I played 'Hybrid Theory' extensively to the point I wore out the CD. Admittedly, listening back to the album now, it's drenched in nostalgia and you could suggest it hasn't aged well. Nevertheless, it is a great achievement for any band in any genre. 'Hybrid Theory' is a bonafide rock classic!
Faint
Lee Male (Faux)
How do you even start writing album number 2 when your debut was 'Hybrid Theory'? I feel it start's with taking what you have achieved and running with it instead of letting it consume you. It's incredibly hard to keep your confidence and self-believe up when pursuing a career as a songwriter / performer. This song always gave me hope and belief with lyrics such as "Don't turn your back on me, I won't be ignored" and "Hear me out now, you're going to listen to me like it or not."
I'm almost certain the song is not about what feelings I took from it, but I do feel that was one of Chester's best trait's; wearing his heart on his sleeve and making you feel comfortable with relating to his lyrics. Without Chester and Linkin Park, I feel I would have never had the courage to open up and say what I wanted to in my lyrics.
Runaway
Ande Hunter (As December Falls)
'Hybrid Theory' was one of the first albums that got me into music. I had just moved to Spain at the age of 10 and was struggling with learning a foreign language and adjusting to a new culture. 'Hybrid Theory' resonated with me very much on a personal level and impacted me in a way that few records have since. The lyrics and emotion in 'Runaway' expressed how I was feeling in a way that, at the time, I simply could not express myself. I will always be grateful to Chester for giving me a voice when I was still yet to find my own.
Crawling
Guy Read (FURR)
Like a lot of other people my age, 'Hybrid Theory' was the first album I ever owned, and played a huge role in my musical journey. The entire album is amazing and I would listen to it on repeat on my Walkman. The one track that stood out though for me on a personal level though was 'Crawling'.
It starts off super atmospheric and the themes and lyrics of the song really chimed with feelings I had at the time of not having control and struggling to make sense of the world both outside and inside of my head. Also, it is impossible not to shout along to the chorus! A few months back, in the car with FURR driving back to Leeds after a show, I put 'Hybrid Theory' on. I was surprised, firstly at how well the album has aged, and secondly that I still know all the words!
Numb
Kēra Stewart (Echoic)
Numb' is a timeless track that is so powerful and will never get old. Lyrically and musically it is a masterpiece. We can never forget the time when they collaborated with Jay-Z and started to appeal to so many different audiences. Back then, that was very difficult for a rock band to do, which is inspiring in itself.
Easier To Run
Cody Quistad (Wage War)
This hits like a brick today. What a voice and truly an inspiration to my generation as well as many to come. You will be very missed, Chester.
By Myself
Lorna Blundell (The Hyena Kill)
This song in particular spoke in volumes to me as a teenager. I'd never heard such amazing heavy music with insightful lyrics and vocals sung so fiercely, yet with intense vulnerability, whilst still blowing the roof off. This band were my gateway into rock music, and therefore everything I know and love now. For that, I'll be forever grateful.
Andy Davidson (Aready Heard Writer)
As a fan of most songs featuring aggressive lead riffs, 'By Myself' made the biggest impression on me when I first listened to 'Hybrid Theory'. The song is made to be jumped to before it's massive chorus turns it into a full-scale stadium anthem.
Hearing over 90,000 people sing it in unison at Download 2014 is a moment I'll never get out of my head. 'Hybrid Theory' was such an important album to so many people, that even the deeper album tracks are as iconic as some of the biggest hits in rock and metal. (AD)
Figure.09
Lucas Gabb (InVisions)
Chester was an inspiration to a monumental amount of fans, musicians and people around the world including myself. 'Figure.09 has always been my go to track when I've felt discontented and lost. Having a very addictive and sometimes self destructive personality, this song reminds me that you don't have to let the darkness take over and to take a step back and remove that toxic element from your life. Rest in peace Chester. You will be sorely missed.
Papercut
Paul Monk (Making Monsters)
'Hybrid Theory' to me was literally the most life-changing album. I remember back when I was about 11 or 12, I was staying over in my cousin's house and he let me hear this new CD he had just bought – 'Papercut' was the opening track. It was unlike anything I had ever heard before, it sounded so visceral and fresh, I was in awe of 'this sound'. I got my own copy and listened to it on repeat, and studied the artwork and booklet inside. This album, solely, pointed me towards rock and nu-metal and changed the direction of my life. Without Linkin Park and their debut, I probably wouldn't be playing guitar or be so heavily involved in this genre of music.
Max Wingell (River Jumpers)
I was 14 when 'Hybrid Theory' was released. I remember struggling with school and was being bullied a bit. That album was a great release for me when I was going through all of that, riding my BMX with it recorded to a tape! I'll never forget the feeling I felt when I heard that opening track and Chesters voice in the chorus.
When I heard Chester had taken his own life I was heart broken. It's a huge shame. I can't imagine what could push someone to do that. Music can be a safehaven for people who struggle with mental illness/ Linkin Park wrote great songs about life and what it throws at you. My thoughts go out to his family and friends. We've lost a true talent.
Hands Held High
Sêan Reid (Already Heard Founder)
In between 'Meteora' and 'Minutes to Midnight', my musical tastes changed and I didn't pay much attention to the latter. Nevertheless, 'Hands Held High' struck a chord with me. Stripped down with military drums, a church organ and Mike Shinoda's fast wordplay on the USA's war on Iraq.
While Bennington takes a backseat role on this track, his harmonies and the haunting "Amen"'s simply add to the strong, mournful message of the song.
Bleed It Out
Lorenzo Di Girolamo (Six Impossible Things)
'Bleed It Out' is definitely my favourite song ever written by Linkin Park. I love the lyrics and the way Shinoda' and Bennington alternate rapping and singing. I grew up in the 2000s, listening to Chester's voice and it will be absolutely amazing to cover one of his songs with my band.
In The End
Matt Claxton (Harker)
Linkin Park were my favourite band when I was younger. I remember the first time I heard 'In The End' on TV. I remember being given Hybrid Theory by my brother for Christmas, in fact, that album was the main reason I was counting down the days that year. I remember listening to it on repeat and it barely leaving my CD player. I remember rehearsing and nearly lip-syncing the whole song for Year 6 leavers do before our teacher changed their mind. I remember searching every record store I came across to try and find their rare EP from when the band was called Hybrid Theory. That band were one of the reasons I wanted to play the drums/play in a band early on.
Don't Stay
Andy Davidson (Aready Heard Writer)
As an impressionable 15-year-old taking in harder rock music for the first time, 'Don't Stay' was the sickest way to open an album I'd ever heard, thanks to that indestructible lead riff paired with Joe Hahn's turntable scratching.
Chester sounds like he's ready to erupt throughout the song, before the "I don't need you anymore, I don't want to be ignored" bridge sends the song into pandemonium. (AD)
Lying From You ('Live in Texas' version)
Andy Calderbank (Pleiades)
They were my first cassette, my first album and my first live album. 'Live in Texas' was the first live album that offered me a convincing alternative to the studio albums. Chester's singing and screaming is as flawless and brutal as the studio recording and as a vocalist he had an incredible ability and is worthy of the term 'idol'.
Krwlng
Sêan Reid (Already Heard Founder)
While the original shouldn't be ignored, this re-working of 'Crawling' has always been a personal favourite from Linkin Park's back catalogue. I'd go as far as saying 'Krwlng' is a "hidden gem".
Its slow, sweeping build adds to the drama and confusion that Bennington, along with Staind's Aaron Lewis, sing about becoming even more effective than the original. Together, Bennington and Lewis compliment each other. The former brings the aggression with the latter bringing a haunting sense of calm to proceedings. The soothing build and bubbling angst leads to a satisfying crescendo that resembles the original.
One More Light
Sêan Reid (Already Heard Founder)
The passing of someone can make you take a different perspective on the art they have created. In hindsight, I regret citing this track as a low point when I reviewed the album of the same name just a few months ago. However in the hours and days that followed Bennington's passing, 'One More Light' brought about a different feeling, one of mourning and poignancy.
With Chester's smooth, sincere voice pushed to the forefront, you can't help but be a little tearful when you realised how talented he truly was. Listening back to this record as a whole, you realise beyond its mainstream-friendly exterior is a singer who is baring his soul lyrically. A singer who needed help but instead we just sneered at "how pop" Linkin Park had become.
---
There are a variety of services that provide advice and support to those with mental health issues. It is important we remove the stigma of mental health and be open and honest. The following services are available:
Samaritans:
Website
Call: 116 123 (Open 24 hours a day, 365 days a year)
E-Mail: jo@samaritans.org
CALM:
Call: 0800 58 58 58 (Open 5pm – midnight, 365 days a year)
Website|Facebook|Twitter
MIND:
Website|Facebook|Twitter
If you are in the US, contact the National Suicide Prevention Lifeline on 1-800-273-8255.
---
Earlier this year, Already Heard released the fourth volume of its "Recommends" compilation series. 'Recommends: Volume 4' is available as a "pay-what-you-want" download with 100% profit of the compilation being donated to MIND.
1. Casey – Little Bird
2. Acres – In Sickness & Health
3. Tigercub – Memory Boy
4. Cassels – Sight for Sore Eyes
5. Energy – The Infection
6. Catch Fire – Thin Ice
7. Kamikaze Girls – Berlin
8. …And The Hangnails – Don't Waste My Time
9. Everyday Sidekicks – Bury Your Friends
10. Colt 45 – Hard Times
11. Youth Killed It – Popstar
12. Patrons – First Of The Slow Burners
13. Tim Kasher – No Secret
14. Empty Lungs – Fragile
15. Nightlife – Salt & Acid
16. Ghouls – Home
17. FURR – Padlocks
18. Patrick Craig – Damaged
19. Skies Collide – Run Wild
20. SEASONS – I Want It All
21. Luke Rainsford – Frame
22. Rosen Bridge – Dreamcatcher