Ahhh Good Charlotte. What a journey they have been on. From humble beginnings of their self-titled album to going stratospheric with 'The Lifestyles of the Rich & the Famous' to their eclectic output that ever since. You have to admit the road for the Madden brothers and company has had its ups and down; celebrity marriages, forays into folk-tinged pop-rock music and launching their own management company.
Nevertheless, in 2018 Good Charlotte are thriving. With 2016's 'Youth Authority' marking a return to form, the Maryland band will be returning to the UK this weekend as they headline the Jägermeister stage at the Slam Dunk Festival.
To get you in the mood for what Joel, Benji, Paul Thomas, Billy Martin and Dean Butterworth have in store for us this weekend, we've curated a 'Best Of' playlist with some help from a few other SDF bands who consider Good Charlotte an influence.
---
Derek Discanio (State Champs): 'Girls and Boys' makes me want to jump around my room, play air guitar and sing into a hockey stick pretending I'm Joel Madden. Wait… I've been doing that for years and still do.
Ryan Scott Graham (State Champs): 'I Just Wanna Live' has always been one of my favourite Good Charlotte tracks because it's got all the things you want from GC: the witty lyrics with the right amount of sass, the catchy melodies, and the headbang-ability. The chorus on this one explodes in a truly original way, with the unforgettable falsetto and dance beat. Pioneers, man!
Alex Biro (Selfish Things): 'Makeshift Love' came out in a transitional period in my life and really hit me straight in the heart – perfect timing and a really strong record.
Alex Biro (Selfish Things): 'Little Things' was one of the first Good Charlotte songs I fell in love with because they shot it about five minutes from the high school I went to at Lorne Park Secondary.
Stephen Beerkens (The Faim): 'The Anthem' has to be my favourite jam out of any Good Charlotte song. I'd blast it out non-stop on every road trip when I was younger, and it was also the very first cover that we performed as a band!

Follow us on Spotify for more playlists.
Good Charlotte links: Website | Facebook | Twitter | Instagram
---
Good Charlotte will be playing the Jägermeister stage at the Slam Dunk Festival on the following dates:
May
Sat 26 City Centre, Leeds – 9:35pm – 10:50pm
Sun 27 Hatfield Park, Hatfield – 9:05pm – 10:20pm
Mon 28 The NEC, Birmingham – 9:35pm – 10:50pm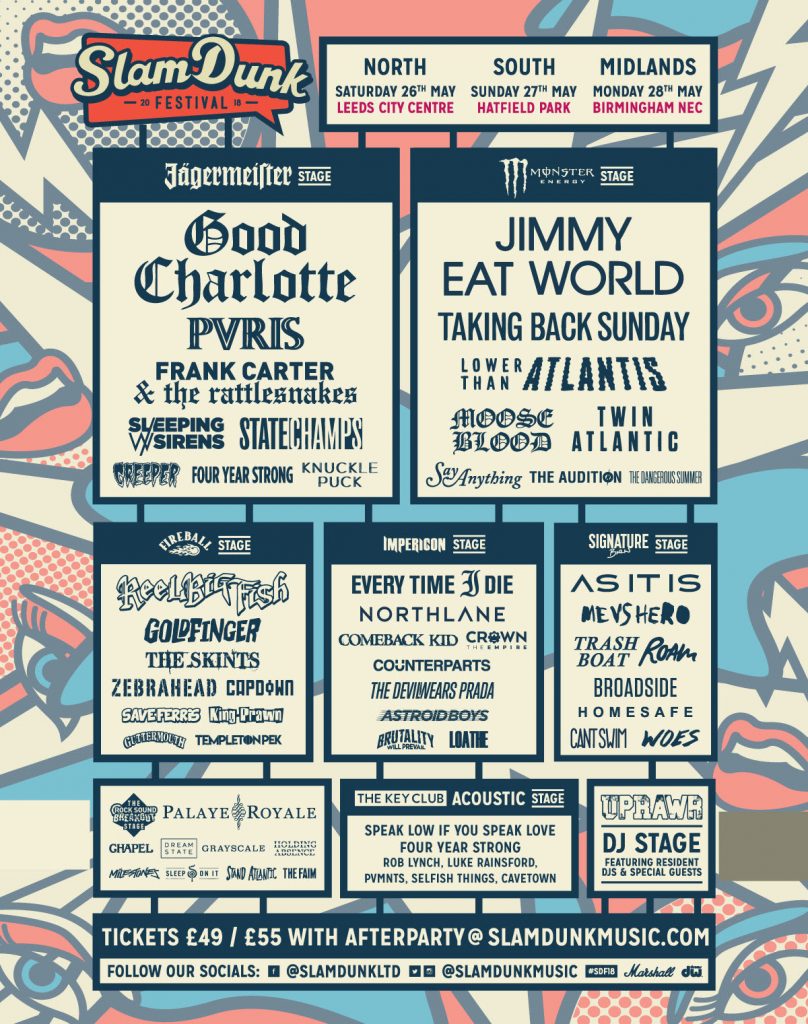 Tickets can be purchased here.
View more of Already Heard's Slam Dunk Festival 2018 coverage here.
Slam Dunk Festival links: Website | Facebook | Twitter | Instagram
---
If you have enjoyed reading this article and would like to help us produce more content and promote more great new music, please consider donating to our Patreon page.