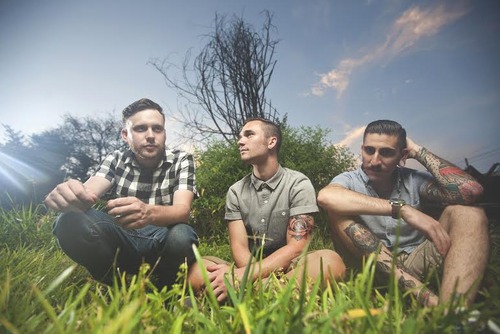 After a slight hiatus, our very own James Lloyd has returned with "Pop-Punk Approved & Recommended". If you're unfamiliar with the feature, "Pop Punk A&R" sees James highlight some of the most promising bands in pop-punk from around the world.
This week James sat down with Louis, Chris & Thomas from Texas pop-punk trio Dear You. The band have just dropped their new EP 'I Can Only Blame Myself' via Third String Records which continues to garner a positive response from critics throughout the US and beyond.
Forming in 2010, about 80 miles East of Houston in Beaumont, the band have progressed through the simmering Texas scene, touring with the likes of Man Overboard and Transit in recent times as their stock continues to rise nationally.
AH: Did the environment you grew up in help or hinder/encourage or discourage you pursuing a career in music?

Chris: So much help and HUGE amounts of encouragement. Our parents all fostered a really positive attitude toward pursuing a music career, even though most of our parents just aren't musically inclined. Traditionally, this isn't how people like that react to saying, "nah I'm not going to college, music sounds more fun." but our parents love us for what we do and support us, and that helps a lot when we start to question things. Louis' parents are gracious enough to still let us practice in their house, and his dad has endless knowledge and advice on equipment, song writing, touring, van repairs, trailers…seriously, anything we need is solved by that man.
Thomas: The town I grew up in had a very, very small music scene but I was always a part of it, and I always supported the local Houston hardcore and metal scenes as well.
AH: What is your proudest achievement as a musician?
Chris: We've done a lot of really neat things over the course of being in this band, but to me personally, the biggest achievement is the amount of people that really like our band. It's still a little crazy to me that some people are as passionate about the things we do as we are.
Louis: It's hard to pick one thing I am overly proud of. We've come a long way since we started and overcome a lot of setbacks. I still see new and exciting places we can go and that is what makes me really proud.
Thomas: My proudest achievement would probably be playing South By So What in Dallas this past year, on the same stage as Taking Back Sunday.
South By So What, now in its eighth year, serves as a tasty Spring-time appetizer for The Warped Tour, removing itself from the discombobulated and often uninspiring SXSW proper, offering a three day dose of alternative music from across North America, with the likes of Atryeu, Mayday Parade and Enter Shikari already confirmed for 2015's instalment. In addition the festival, booked by Third String Records, offers up opportunities to a number of those emerging artists who are perhaps not yet ready for Warped.
AH: Which individuals outside of your band mates have helped you – musically – achieve what you have so far?
Chris: Immediately, people like Kevin Gates (producer) and Mike Ziemer (manager) but also our close friends and other bands in our area are just the hugest help to us. Kevin is the funniest kind of person, because we started recording with him when we were 18, and he intimidated the hell out of us. I remember getting so excited when he would acknowledge us as a band, and it feeling like such an accomplished thing. Now he's one of our closest and most frequent friends and supporters of Dear You. Mike is one of those guys that just likes to do everything, and he always does things well. He's a really great businessman, and, even better, he and all of the people he associates with are such a blast, and so nice to be around. The opportunities we get because of Third String Records is always a blessing.
AH: How do you see the state of the pop-punk genre in 2014?
Thomas: The state of pop-punk now is so vast. you've got bands that draw from so many influences from 90s alt rock to hardcore that are all putting out awesome "strains" – if you will – of the genre that I feel like there's something for everybody currently.
Louis: Pop-punk hasn't been as relative as it now in a long time and that's incredible to me. It's awesome to see so many bands bringing a refreshing new outlook on the genre I grew up loving and I hope to see it continue to thrive.
AH: What is your favourite pop-punk record of all time?
Chris: 'Gospel' by Fireworks. I can never get tired of that album.
Louis: 'Take This To Your Grave' (Fall Out Boy). It was the first album I ever physically owned and even to this day I love to listen to it front to back. It's definitely one of the most influential albums to me and it's amazing to me to see how far that band has come since then.
AH: For those of our readers who are new to the band, what sets you apart from your contemporaries within the genre?
Thomas: I'd like to think we're a very personal band. For a long time we had a Google voice number that people could call if they needed someone to talk to and I've never seen a band do something quite like that. We always try and play as many house shows as we can fit in the time frame whilst out on tour.
Chris: I don't think that it sets us apart, because there are really great bands who do this too, but we focus so hard on the emotion and the lyricism, and the connection you feel to us personally. We've only wanted to get closer to the people that think we are doing something right, and we have tried our hardest to make ourselves transparent and available to the people that love our band. I wish that some of the bands I grew up on could have had the social connection people get to make these days, I know they would have done the same as us.
Dear You could well be one of the poster boys for the new era of pop-punk that continues to re-ignite the genre and make it relevant in the mainstream for the first time in a number of years. A measured brutality and aggression is omnipresent across 6 blistering tracks, but balanced with melodic interjections throughout, without ever falling across to the 'pop' side of pop-punk fence. Lyrically, both thoughtful and astute, the trio offer up absolutely no filler, with 'I Can Only Blame Myself' sitting as one of the stand-out pop-punk releases of the year so far. The new record showcases a blend of everything that makes the alternative genre great, and Dear You are well on their way to the next level.
' Can Only Blame Myself' EP by Dear You is available now on Third String Records.
Dear You links: Facebook|Twitter|Tumblr
If you're band would like to be featured in a future edition of "Pop-Punk A&R", please send an e-mail to info@alreadyheard.com with the subject title of "Pop-Punk A&R".
Words by James Lloyd (@CT4James)