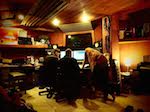 Producer Bob Cooper has announced plans to release the first in a series of quarterly released compilations entitled 'Sick Jams'.
The first instalment of the series, 'Sick Jams #1' is scheduled to be released through Struggletown Records on 14th April, and will include a collection of Cooper's recent works.
It will feature tracks from Nai Harvest, All the Best Tapes, Keeper, The Sinking Feeling, Healing Powers, Walleater, Dearist, and The Homesteads.
1. Nai Harvest – Ain't That Enough (Teenage Fanclub cover)
2. All The Best Tapes – I've Been Bored Since 9/11
3. The Sinking Feeling – Ugly
4. Keeper – Cellar Door
5. Valours – Dreams / Metaphors
6. Healing Powers – Friendship Bracelet
7. Walleater – What Do You Know?
8. Self Defense Family – Turn The Fan On
9. The Homesteads – When You Think Of Home
10. Dearist – New Song
11. Allusondrugs – Cherry Pie
12. Kill The Silence – TBC
13. Brightside – TBC