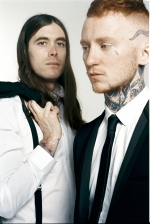 Pure Love have announced they are going on hiatus and will be playing their final shows in May.
The duo released their debut full-length, 'Anthems' last year.
The following comments were made through the bands Twitter account:
"After what can only be described as a "hard year" Jim and I have decided to hit the brakes and place Pure Love into the phantom zone It's not an easy decision, and we both hate the term "indefinite hiatus" but that's exactly where we are at. Please join us in May to celebrate a couple hard years, one beautiful record, and lots of brilliant shows with you amazing people. We will be playing our only shows this year in the UK where you have all been so great to us. We look forward to seeing you all there x"