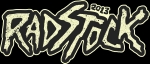 The stage times for the very first Radstock Festival has been announced. The festival takes place later this month at Liverpool's O2 Academy.
Monster Energy Stage (Room 1):
The Blackout 10.10pm – 11pm
We Are The Ocean 8.40pm – 9.20pm
Don Broco 7.10pm – 7.50pm
Yashin 5.50pm – 6.20pm
The Red Jumpsuit Apparatus 4.30pm – 5.00pm
Sonic Boom Six 3.10pm – 3.40pm
Natives 1.50pm – 2.20pm
Hard Times Clothing Stage (Room 2):
Bury Tomorrow 9.45pm – 10.30pm
Bleed From Within 8.30pm – 9.15pm
Martyr Defiled 7.20pm – 8pm
With One Last Breath 6.30pm – 7pm
Polar 5.40pm – 6.10pm
Marmozets 4.50pm – 5.20pm
Demoraliser 4pm – 4.30pm
Carcer City 3.10pm – 3.40pm
Rat Attack 2.20pm – 2.50pm
For Eyes 1.30pm – 2pm
The Big Deal Clothing Stage (Room 3):
Straight Lines 9.30pm – 10pm
Blitz Kids 8pm – 8.30pm
Decade 6.30pm – 7pm
Light You Up 5.10pm – 5.40pm
Tantrum To Blind 3.50pm – 4.20pm
Drive By Night 2.30pm – 3pm
Gnarwolves 1.20pm – 1.50pm
Radstock Festival 2013 will take at Liverpool's O2 Academy on Saturday 30th March 2013. Tickets are £25 and can be purchased here.