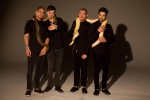 Exeter's Rat Attack have released their début single 'Bad Catholic' and is available to download for free on Facebook.
Rat Attack will be releasing a self titled debut EP in February 2013 (date TBC), which will feature the 2nd single 'Heartbeat', with guest vocals from Liam Cromby from We Are The Ocean.
The video for 'Bad Catholic' can be viewed by clicking read more.