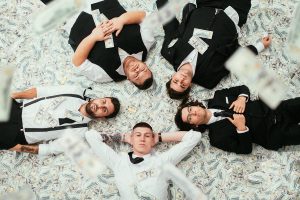 As we mentioned in this month's edition of "Incoming" earlier this week, August is stacked with notable releases and the first #NewMusicFriday of the month is no exception.
For starters, Trophy Eyes deliver their outstanding new record – 'The American Dream'. While Deaf Havana provides us with 'Rituals', a record where James Veck-Gilodi picked the song titles first and then wrote songs to fit them.
Elsewhere, Tennessean rockers Lucero return with another set of country-meet-punk numbers with 'Among The Ghosts'. Crossfaith serve up a sci-fi-influenced alternative future with their fifth album – 'Ex Machina'.
There are also noteworthy releases from instrumental post-rock quartet Tides Of Man, Leeds pop-punks Eat Defeat, German quartet Time, The Valuator and rising Michigan group Forest Green.
Trophy Eyes – The American Dream (★★★★.5 Review)
Lucero – Among The Ghosts
Deaf Havana – Rituals
Crossfaith – Ex Machina
Tides Of Man – Every Nothing ("The Place We Call Home" feature/Stream)
Eat Defeat – I Think We'll Be OK (★★★.5 Review)
Down By Law – All In (★★.5 Review)
Forest Green – Nothing Is Special EP
Time, The Valuator – How Fleeting, How Fragile (★★★★ Review)
Taken By The Tide – Revenge
Victory Kid – Thrillenials EP (Stream)
The Black Delta Movement – Preservation
Odd Robot – Amnesiatic