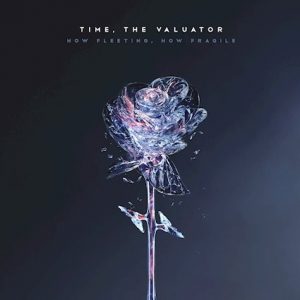 When a band describe their music as "art", you have every reason to be sceptical. It's as if Time, The Valuator are asking to be criticised. Similarly, when they announced their debut album, they described it as "a limitless blend of alternative rock, pop, metal, jazz and ambient" music. Nevertheless, having listened to 'How Fleeting, How Fragile', they have the right to be confident.
Founded in mid-2015, the German four-piece has worked quickly to crystallise their ideas. Make no mistake, their talent is both obvious and effective. At the forefront is Phil Baylor's singing voice. Lofty and capable, he easily gives Spencer Sotelo a run for his money, expertly riding notes, then plunging into hooks. Weaving around the music, but never dominating it.
The band's secret weapon is the way chief songwriter/pianist/guitarist Rene Möllenbeck and second guitarist Cedric Dreysazs construct songs. Wisely, they don't overuse the djent-y Nerp-Nerp sound other bands rely so heavily on. Instead, it's a tool in their palette, deployed for effect; especially when 'Onryo' takes a violent turn.  Thus, allowing shifts in tone and style, adding characterful slides, licks, and nuance where needed. Building around a piano, and piano sounds ('Fugitive'), provides texture to the airy sections while avoiding the godawful identikit synthscapes seemingly shoehorned onto every record in this genre. And no, you can't call the faux-orchestral sound on 'Starseeker' overblown, because it fits perfectly.
'How Fleeting, How Fragile' is the sound of a metal band exploring space. And that's the record's only real flaw, with so many other bands (Northlane, Voices From the Fuselage, Periphery) already exploring it, the cosmos seems a bit crowded. Stepping outside the box would have been easy, instead Time, The Valuator tread a safer path.  However, by really pushing those generic sounds they have created a powerful, worthwhile record. 'How Fleeting, How Fragile' is a rich, assured debut. Clearly, a little confidence goes a long way.
4/5
'How Fleeting, How Fragile' by Time, The Valuator is released on 3rd August on Long Branch / Famined Records.
Time, The Valuator links: Website | Twitter | Facebook | Instagram
Words by Ian Kenworthy (@WhisperingSand)