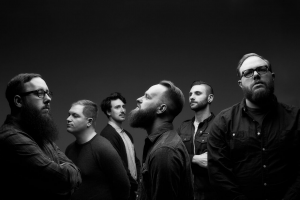 When we said that April was a busy month for releases, we weren't joking. Just look at the list of today's releases below.
From major returns from the likes of The Wonder Years, Thirty Seconds To Mars, and Underoath to homegrown releases from Bleed From Within, Palm Reader, Halo Tora, Coldbones and Luke Rainsford, there is a tonne of new music to choose from.
In addition to all that, there are new releases from Blackberry Smoke, Hop Along, Knuckle Puck, Wess Meets West, The Weekend Classic along with several others.

Follow us on Spotify for more playlists.
The Wonder Years – Sister Cities (★★★★.5 Review/Stream)
Thirty Seconds To Mars – America
Knuckle Puck – Shifted EP
Underoath – Erase Me (★★★★ Review)
Bleed From Within – Era
Palm Reader – Braille (★★★★.5 Review/Stream)
Blackberry Smoke – Find A Light
Hop Along – Bark Your Head Off, Dog (Stream)
Wess Meets West – A Light Within The Fracture (Playlist Feature)
Halo Tora – Man Of Stone: First Chapter (★★★★ Review/Album Premiere)
Crossing The Limits – Perseverance EP (Stream)
Yoon Yung / Corey Stroffolino – Everything's Real b/w Live At Silver Bullet Studios (EP Premiere)
Coldbones – Where It All Began (Stream)
Luke Rainsford – I Just Don't Deserve To Be Loved EP (★★★★ Review/Track Guide Feature)
The Weekend Classic – Better Health EP (★★★★ Review)
Temples on Mars – Temples on Mars
Valis Ablaze – Boundless
TrueHeights – Days We Found EP
Honey and Salt – Honey and Salt
Teen Creeps – Birthmarks
No Thank You – All It Takes To Ruin It All (Stream)
waterweed – Brightest
Bumpin Uglies – Beast From The East
Eyes On Satellites – The Illuminator EP
Nations Afire – Violence EP
What releases are you looking forward to hearing? Let us know in the comments.