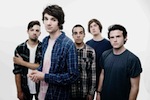 This week sees releases from the likes of Decade, Neck Deep, Canterbury and more.
Decade – Good Luck (Already Heard review)
Neck Deep – Wishful Thinking
Blitz Kids – The Good Youth
Canterbury – Dark Days
Switchfoot – Fading West
You Blew It! – Keep Doing What You're Doing (Already Heard review)
VERSA – Neon EP
If you have an upcoming release we should know about, let us know here.