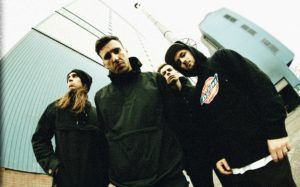 The short month of February ends with a busy round of releases. This week sees the likes of Blood Youth, Dream Theater, Woahnows and Delain return with new full-lengths.
While there is a plethora of emerging talent making themselves known; Minors, grandson, Burnt Tapes, Badflower, To The Rats and Wolves, Jetty Bones and Ghost Iris are all names that should be on your radar.
For those who want something heavy, you can take your pick of new music from Overkill, Horndal, Antre, Continuum, and ExitWounds.

Follow us on Spotify for more playlists.
Blood Youth – Starve (★★★★.5 Review/Interview)
Dream Theater – Distance Over Time (★★★.5 Review)
Minors – Abject Bodies (★★★★ Review/Stream)
Badflower – OK, I'm Sick
Delain – Hunter's Moon (★★.5 Review)
Woahnows – Young and Cool
grandson – a modern tragedy vol. 2 EP
Burnt Tapes – Never Better (★★★.5 Review/Stream)
Jetty Bones – – ("hyphen") EP (★★★.5 Review/Stream)
Ghost Iris – Apple of Discord (★★★.5 Review)
To The Rats and Wolves – Cheap Love (★★★.5 Review)
Boundaries – My Body In Bloom
Horndal – Remains (★★★.5 Review)
Semaphore – Leave With the Season
Antre – Void
Bellows – The Rose Gardener
Continuum – Designed Obsolescence
Demon Head – Hellfire Ocean Void
ExitWounds – Visions EP
O.R.k. – Ramagehead
Overkill – The Wings Of War
Wheels – Moving Backwards