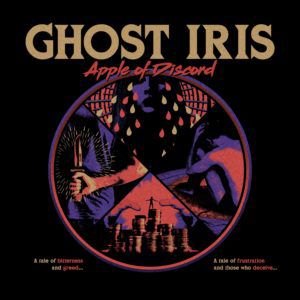 Hailing from Denmark, Ghost Iris built a career on Bandcamp before breaking out with debut record 'Anecdotes of Science and Soul' and became the country's most streamed metal band with their second, 'Blind World'. After making a name on the international stage by playing Euroblast and Tech-Fest, they're determined to do everything in their power to continue that upward trajectory with their new album, 'Apple of Discord'.
While the band's previous records leant heavily on angular djent riffs and scratchy guitar sounds, this time around both elements are less prominent. Instead, the focus is on big grooves, built around more straightforward song structures. Although Nicklas Grønlund Thomsen isn't afraid to explore the fretboard, much of his work has a direct feel, with less time spent building atmosphere, but that's no bad thing. You'll find yourself bobbing along to the music's flow, especially when the band show off a heavier side with the frantic stomp of 'After The Sun Sets Part II' and the brutal 'Heaven Was Pure Hell', yet even these songs contain a solid dose of melody.
Jesper Vicencio's vocals are the band's big draw; powerful, accessible, wide-ranging, and extremely catchy. Yes, there are plenty of death growls but they take second place, as heard on the infectious single 'Cowardly Pride'. Similarly, the chorus of 'Final Tale' would not sound of place on a dancefloor. These poppier sensibilities are felt strongest on 'Beauty In Expiration', which contains a heavily auto-tuned guest vocal from Don Vedda that could have been culled from a Jackson Five record. It feels little out of place but shows the band's willingness to push their sound.
Clearly, Ghost Iris are trying to hit big with their new album, surrendering some of their depth and nuance in favour of a powerful, appealing sound. While not their most progressive record, if you're looking for huge vocal hooks and chunky headbanging riffs then 'Apple of Discord' has plenty to offer.
3.5/5
'Apple of Discord' by Ghost Iris is released on 22nd February on Long Branch Records.
Ghost Iris links: Facebook | Twitter | Instagram | Bandcamp
Words by Ian Kenworthy (@WhisperingSand)