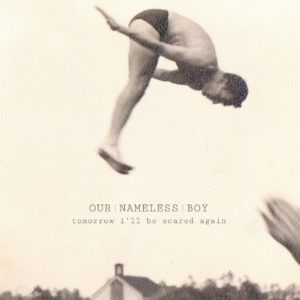 Occasionally an EP lands in your inbox that you instantly become addicted with, to the point it leaves you wanting more. 'Tomorrow I'll Be Scared Again' is one of those EPs. For Bristol quartet, Our Nameless Boy, the EP has been years in the making (work halted when Iain Gorrie was diagnosed with testicular cancer in late 2015). Although the circumstances for its delay weren't ideal, for anyone with a passing interested in emo-rock will find a lot to admire about these five songs. From the rumbling opening and thriving urgency on 'Waste Away' to the defiant final lines of "It's over now!" on 'Nover', Our Nameless Boy have pieced together an exceptional debut release.
However, they're not reinventing the wheel. Songs like the aforementioned 'Waste Away' and 'Once An Island', effectively play off a familiar quiet-loud dynamic. The former charges into its chorus with stirring guitars, unified harmonies and introspective lyricism as Gorrie sings of "waste away all your innocence". Whereas 'Once An Island' treads more gently; intertwining guitars subtly twinkling before radiantly exploding.
'All It Is' serves as a midway highlight with its sturdy percussion, duel vocals, soaring chorus and riveting guitar work. Even though Our Nameless Boy's execution is consistent throughout, it is here where they truly stand out; rhythmically and structurally solid.
'Nothing On My Mind' sees where comparisons to bands such as Manchester Orchestra come into play. Its enticing, hushed delivery builds with subtle intensity, yet it pays off with strong vocal work from all four members and punchy drum work.
It all comes full circle with 'Nover', combining its urgency with a brilliant, playful guitar melody. While Will Purcell's pounding drums and Richie Steadman's screams adds an unhinged sense of rawness, countering the tranquil mid-section.
Although Our Nameless Boy hit all the right marks, a quick Google search suggests 'Tomorrow I'll Be Scared Again' will get lost in the ether of great EP's. Don't make that happen!
4.5/5
'Tomorrow I'll Be Scared Again' EP by Our Nameless Boy is out now on Beth Shalom Records.
Our Nameless Boy links: Facebook | Twitter | Instagram | Spotify
Words by Sêan Reid (@SeanReid86)