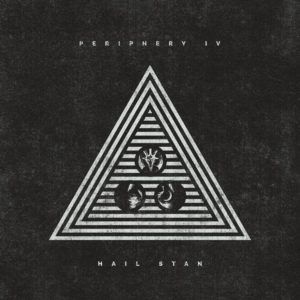 In many ways you know what you're getting with a Periphery record. It's progressive, it's tech-metal, it's got a silly sub-title, but with 'Periphery IV: Hail Stan' they've really pulled out the stops. This may be their sixth full-length, but they're treading new ground and it feels like a genuine step forward.
Nowhere is their ambition more obvious than opener 'Reptile'; Heavier, riffy and surprisingly focused, it's everything the band do best, sharpened to a point, and then left to run wild for seventeen minutes. Despite such a prolonged runtime it defies expectations by remaining focused and stunningly accomplished, even adding a spoken-word interlude from SIkTH's Mikee Goodman for a little garnish.
Subsequent tracks push the sound in different directions, and you never quite know where they will go. A storm of drums and feedback makes 'Blood Eagle' one of the heaviest songs they've released, playing on Spencer Sotelo's scratchy scream, until the halfway point when he switches to soaring clean vocals, sending it stratospheric. While 'Sentient Glow' features a similar structure, the execution couldn't be more different, opening with an ode to thrash-metal only to fade delicately away, like a ship leaving shore. This transience is a feature of every song and though each has a groove, they never fall into a rut, which is a breath-taking achievement.
Once again, you hear the wealth of programming that flavoured previous releases, but here it feels new and interesting. There's glitching done properly, particularly on the bright industrial stomp of 'Crush' and some new guitar flavours on songs like 'Chvrch Bvrner' which mixes a wonderfully unusual riff and punchy fluid vocal. It not only works, but feels essential.
By presenting generic elements in fascinating new ways, Periphery manage to push their sound forward, building on their strengths in both engaging and exciting fashion.  Despite basking in contrast, it's a cohesive record and arguably one of their best.
4/5
'Periphery IV: Hail Stan' by Periphery is released on 5th April on 3DOT Recordings.
Periphery links: Website | Facebook | Twitter | Instagram
Words by Ian Kenworthy (@WhisperingSand)