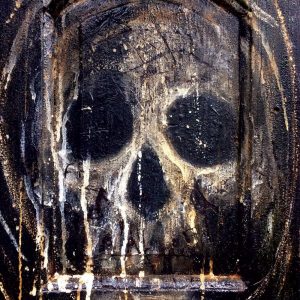 They've been called a steampunk band before, but long-windedly named The Men That Will Not Be Blamed For Nothing prefer the label "Victorian-themed punk rock", the crucial difference being the lack of a cyberpunk sci-fi element to their music. It's important to point out here that although the lyrical content of many of the songs on their latest release 'Double Negative' could very well be applied to modern society ('There's Going To Be A Revolution' feels like it will always be relevant), they are in fact, set in the 19th century.
The band members come from a mixed background of both music and standup comedy, something that's easy to recognise in their creative and frequently amusing lyrics which clearly don't take themselves too seriously (see 'Obsence F*****g Machine' or 'Baby Farming'). The music itself is mostly that energetic, shouty classic punk sound, an influence heard best on songs such as 'Supply and Demand' and 'Occam's Razor'. There's also a little bit of hardcore thrown in ('God Is In The Bottom Line'), and they clearly draw from the darkness and drama of post-punk too, (see 'Hidden'). With its eerie guitars and minor inflexions mixed with descriptive story-telling lyrics, this latter track is a highlight on the album, and builds to a tumultuous conclusion, musically and thematically.
Sang mostly in their own southern accents throughout and with plenty of talk/shouty singing, the band also occasionally make use of spoken word extracts and sound bites to decorate and enhance the plot of their songs with great effect ('Disease Control', 'Occam's Razor').
At only twenty-eight minutes, the album is quite short, but that works in its favour, dropping the listener in and out quick, and leaving them wanting more after the angsty, noisy distorted outro of 'There's Going To Be A Revolution'.
Regardless of your interest in steampunk or Victorian culture, 'Double Negative' is a solid punk-fuelled outing with a smart dosage of humour.
3/5
'Double Negative' by The Men That Will Not Be Blamed For Nothing is out now on Leather Apron Records.
The Men That Will Not Be Blamed For Nothing links: Website|Facebook|Twitter|Instagram|Bandcamp
Words by Bec Simpson (@swallowmyeyes)