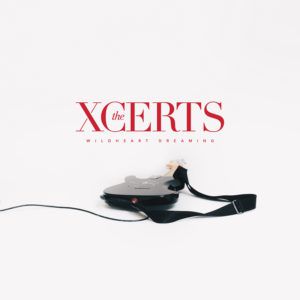 Ahhhh The Xcerts – the band that just keeps giving. Not comfortable with giving us the euphoric 'Hold On To Your Heart' LP and its complementary 'Late One Night' EP last year, they've returned with four more songs in the form of 'Wildheart Dreaming'.
Written during the 'HOTYH' sessions, it's no surprise that, sound-wise, three of the four songs on here fit the 80s-tinged pop-rock mould that that album thrived on. Opener 'You Mean Everything' is a succulent and heartfelt ode to Murray Macleod's family and friends with radiant instrumentation, mostly bright keys. It's possibly the most noteworthy cut on here, ideally leading the way with its well-rounded sound.
The middle pairing of 'Ready to Call' and 'Fight or Run' is perhaps where the EP falters. There's nothing terrible about either track as they both highlight The Xcerts' knack for delivering big, catchy hooks. The former treads on rose-tinted power-ballad territory; ringing piano keys and lines such as "running back to you". The punchy 'Fight or Run' is, unfortunately, forgettable. Although it's upbeat, it sounds all too similar to what we heard on 'Hold On To Your Heart'. Both songs don't sound entirely unique and might explain why they were put aside until now.
'Real Love' ties up the EP in an intimate manner. With Macleod's sorrowful voice and gentle acoustic strums, it's a tender offering showing his songwriting range. Subtly raw in its tone, it's a welcomed change of pace for this short outing.
For anyone looking for an introduction to The Xcerts, 'Wildheart Dreaming' isn't quite it. While its four songs are carried with the same attributes that have made the trio so beloved in certain circles, it's clearly a complementary stop-gap. Nevertheless, with work on a fifth full-length set to begin in the coming months, 'Wildheart Dreaming' is an appreciative finale to the 'HOTYH' chapter of The Xcerts, albeit one that isn't entirely necessary.
3/5
'Wildheart Dreaming' EP by The Xcerts is released on 22nd March on Raygun Records.
The Xcerts links: Website | Facebook | Twitter | Instagram
Words by Sêan Reid (@SeanReid86)