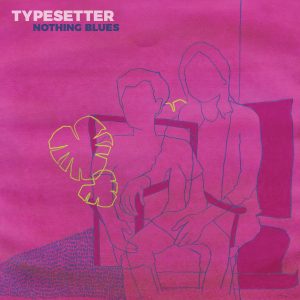 Having been kicking around for six years now, Chicago five-piece Typesetter have returned with their latest venture, 'Nothing Blues'. Known for their smooth blend of alt-rock, punk and shoegaze, the group use their second album as a springboard to put out some adventurous tunes that sweats with human emotion.
Opener 'Monogamy I' is a bold foot forward, a noisy pop-punk inspired banger that's almost defined by its danceable energy. With expressive vocal delivery and ferocious guitar licks, it's undeniably entertaining, with a hint of something powerful under the hood of this band. It's an instant declaration of their talents: the drumming is creative; the riffs and basslines are slippery on the beat and Marc Bannes' singing ties it all together with ease.
Album highlight 'Regardless' see's them flex their songwriting chops even further. Drummer Matt Gonzalez is at peak performance here, punctuating what could have been a mediocre track with some astonishing fills and delicious flourishes. While soaring vocals and ripping guitars are wonderful, this track honestly belongs to it's excellent rhythm section.
Typesetter make sure not to cement themselves in any one certain style though. The album explores some alternative balladry in the form of 'White Noise' and 'Technicolour'. While it's a refreshing break from the high-energy moments, it feels like a missed opportunity to venture into more experimental sounds. The wider range of instruments that appear on the latter song feel so close to hitting that mark too.
They do an incredible job of breathing new life into aging genres. 'Only' is another great moment, a synth-laden pop-rock anthem that sounds like Blink-182 run through a couple of pedalboards. Closing track 'Viva' feels born of American Football's dynasty, a trumpet-led feel-good finisher.
Typesetter's sophomore album is certainly not perfect, but it's a band doing their god-damn best to create music that is emotionally grounded and sees them taking musical risks that feel exciting. It's wrong to feel blue over such an entertaining project.
3.5/5
'Nothing Blues' by Typesetter is out now on 6131 Records.
Typesetter links: Website | Facebook | Twitter | Instagram | Bandcamp
Words by Sam Seaton (@Citrus_Music_)