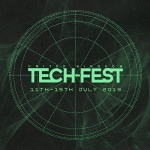 Details of this year's Tech-Fest in Peterborough have been announced with Scar Symmetry, Veil of Maya, and Tesseract being confirmed as headliners.
The rest of the line-up consists of:
Monuments (EARLY BIRD 11th HEADLINER)
Skyharbor (UK EXCLUSIVE)
Chimp Spanner
Heart of a Coward
Sybreed
Aliases
Uneven Structure (Exclusive)
The Algorithm
Disperse
Destiny Potato
Xerath
Cilice
Neosis
Dyscarnate
Nexilva
Drewsif Stalin (D.S.M.E)
Cold Night For Alligators
Eryn Non Dae
Kartikeya
Above The Earth
Joncofy
Tech-Fest takes place from 11th to 15th July at The Plough, Peterborough and is the first open-air progressive and technical metal festival in Europe.
Weekend tickets cost £59.99 (+£20 for camping) and are on sale now here.