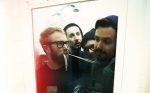 Scouts have premiered the music video for '(Please Don't Take Me Back To) North Shore'.
The track is taken from their recent 'Why Do My Friends Have To Live Around Here' 7" which is available now through Thanks For Nothing Records.
View the video after the read more jump below.