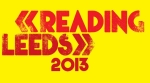 Following on from last nights news of Don Broco and Deaf Havana joining the lineup for this years Reading and Leeds Festival, several new additions to the Lock Up Stage have been announced, with the likes of Off With Their Heads, Feed The Rhino, Sonic Boom Six, Sharks, Great Cynics and Gnarwolves joining the bill.
Friday Reading / Saturday Leeds
Feed The Rhino
The Creepshow
Rat Attack
Palm Reader
Gnarwolves
Saturday Reading / Sunday Leeds
Sonic Boom Six
Off With Their Heads
Chuck Ragan
Anti Vigiliante
Sharks
Great Cynics
Whilst Filter, Hacktivist, and Hawk Eyes have joined the Rock stage.
In additional news The Pretty Reckless have been added to the main stage with Night Engine, Darwin Deez, Villagers, and Wavves joining the BBC Radio One/NME tent.
The full list of additions can be viewed by clicking read more.
Reading and Leeds Festival will take place between 23rd and 25th August later this year.
Main Stage
Reading Friday 23rd / Leeds Saturday 24th
The Pretty Reckless
Reading Sunday 25th / Leeds Friday 23rd
Don Broco
BBC Radio One/NME Stage
Reading Friday 23rd / Leeds Saturday 24th
Night Engine
Reading Saturday 24th / Leeds Sunday 25th
Darwin Deez
Deaf Havana
Reading Sunday 25th / Leeds Friday 23rd
Villagers
Wavves
BBC Radio One Dance Stage
Reading Friday 23rd / Leeds Saturday 24th
Alvin Risk
Reading Saturday 24th / Leeds Sunday 25th
Post War Years
Reading Sunday 25th / Leeds Friday 23rd
Pegboard Nerds
Lock Up /Rock Stage
Reading Friday 23rd / Leeds Saturday 24th
Feed The Rhino
The Creepshow
Rat Attack
Palm Reader
Gnarwolves
Reading Saturday 24th / Leeds Sunday 25th
Sonic Boom Six
Off With Their Heads
Chuck Ragan
Anti Vigilante
Sharks
Great Cynics
Reading Sunday 25th / Leeds Friday 23rd
Filter
Hacktivist
Beware Of Darkness
Hawk Eyes
Festival Republic Stage
Reading Friday 23rd / Leeds Saturday 24th
Papa
Charlie Boyer And The Voyeurs
Reading Saturday 24th / Leeds Sunday 25th
Savages
DIIV
Dan Croll
Sons & Lovers
Reading Sunday 25th / Leeds Friday 23rd
Mount Kimble
Frankie & The Heartstrings
In The Valley Below
China Rats
San Cisco
BBC Radio 1Xtra Stage
Reading Friday 23rd / Leeds Saturday 24th
Itch
Reading Saturday 24th / Leeds Sunday 25th
Chance The Rapper